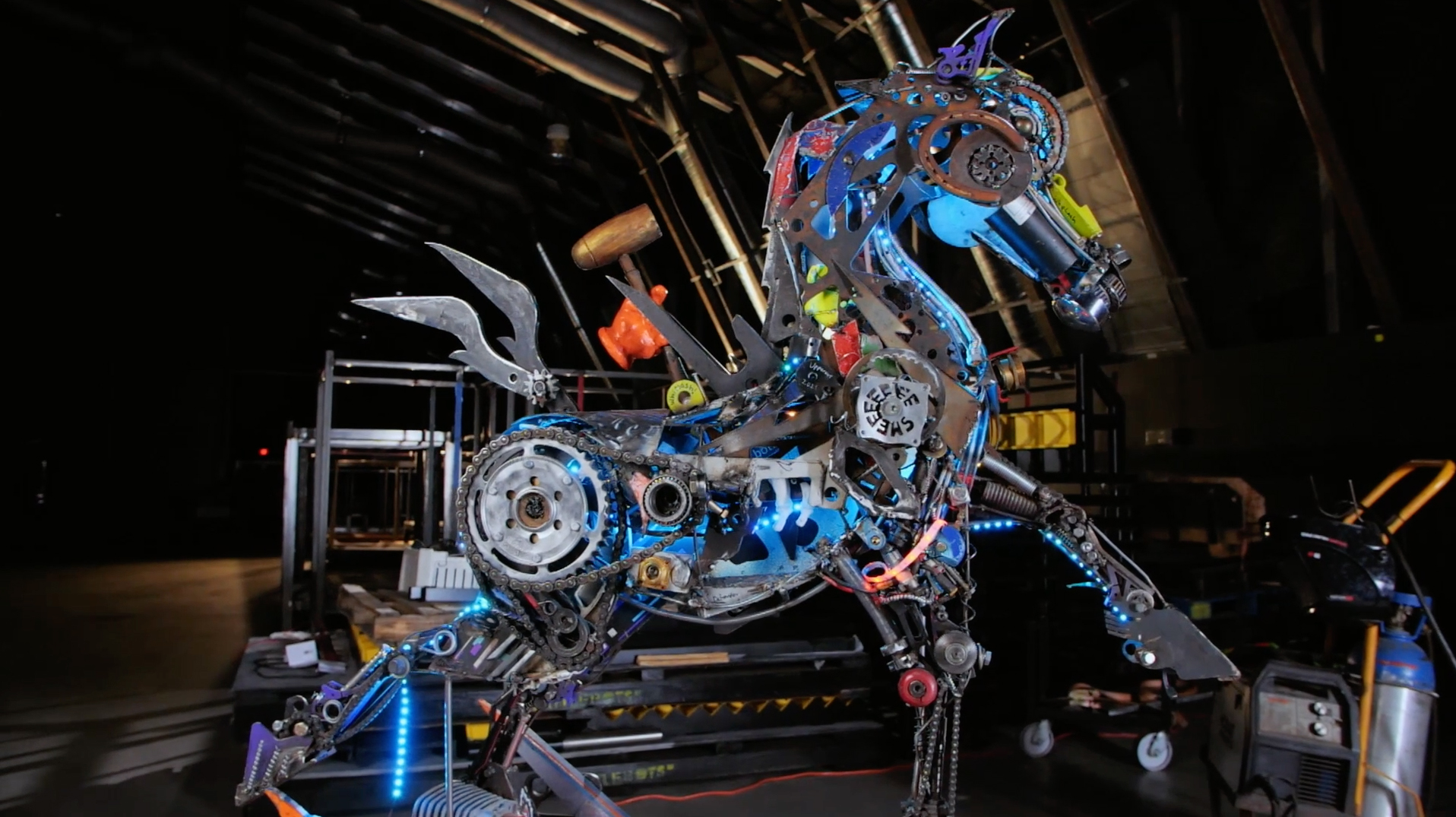 This incredible sculpture is made entirely from the carnage of Season 6.
BattleBots' first ever Artist in Residence David Fay created this extraordinary work during the filming of the 2021 World Championship, which took place in Las Vegas last Summer. Hundreds of bot pieces were strewn around the arena floor and collected from waste bins in the Pits.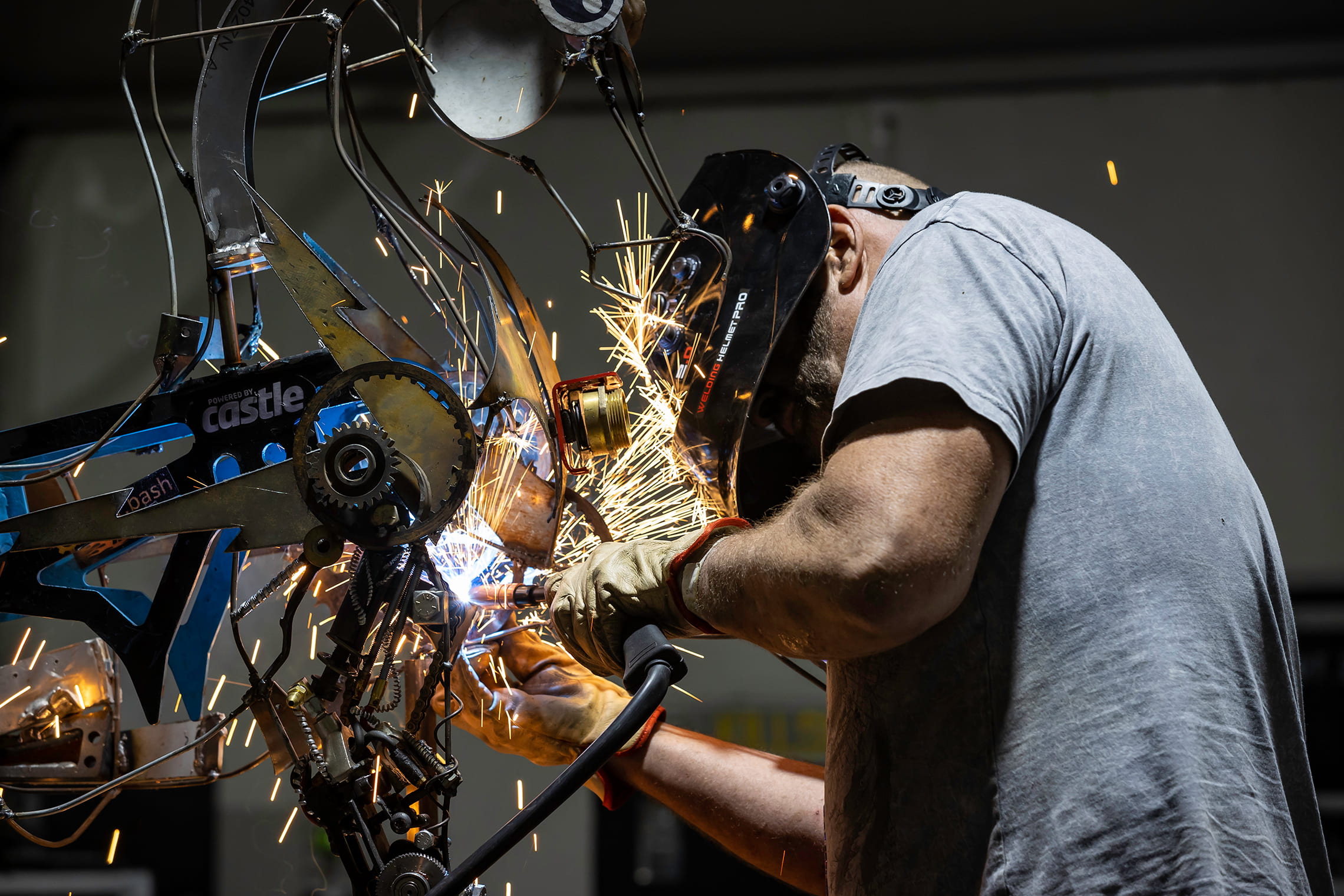 David, a local Vegas "assemblage artist", salvaged the wreckage, including parts generously donated by the teams, and spent hundreds of hours creating this extraordinary horse. He calls it "BattleTrot" and says it's inspired by the hard work and dedication of every competitor.
The entire story of Season 6 is welded into the sculpture, with battered and bent parts from the most popular robots, many signed by the builders themselves, and all lovingly integrated into a unique work of art.
Watch how the sculpture evolved:
About BattleTrot
'BattleTrot', like the Trojan Horse that inspired it, is the Ultimate Competitor. As David Fay says, "never underestimate your competitor's ability to perform in battle merely by outward appearance and size. Each competitor has its own unique fighting ability and strengths. BattleTrot represents the warrior in each and every one of us."
It's a great comment on the actual season, on the incredible dedication and passion of every team that took part in 2021 and the finished sculpture is a unique time capsule of that wonderful tournament.
You can see the horse in detail in this video:
Now for sale SOLD
The finished work is being sold by auction. All the profit from the sale (less David's time and materials, equipment and other costs, which will be capped at 50% of the selling price) will go to Grant Imahara's STEAM Foundation, a non-profit organization founded in Grant's memory by his mother Carolyn and several of his lifelong friends. The Foundation's vision exactly matches BattleBots' own goals: to inspire new talent and empower underserved youth in Science, Technology, Engineering, Art and Math education.
The charity
This money will help to sustain Grant's legacy of giving back to communities in need through bursaries, grants and scholarships. BattleBots truly believes that every student should have equal access to STEAM education, regardless of their socio-economic status, race, color or gender. The Imahara Foundation's own aims reflect this precisely.
The auction
The auction has concluded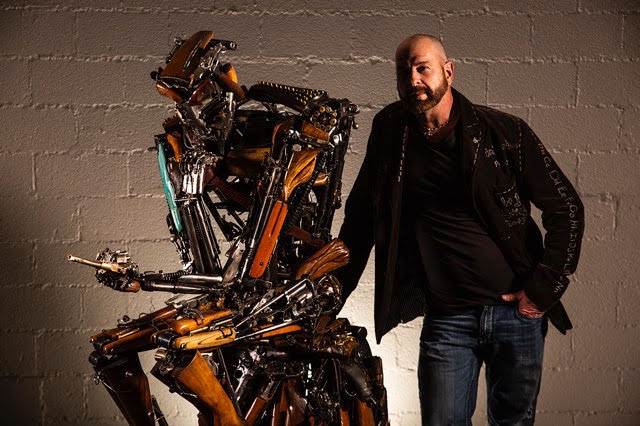 The artist
Fay's artistic style is whimsical and imaginative, transforming everyday items into magical creations that viewers can touch and relive. He is most widely known for his life-size sculpture titled "On Second Thought" created as a memorial to honor those who tragically passed during the October 1st massacre in Las Vegas. "On Second Thought" was created out of parts and ammo from more than 600 decommissioned guns and shaped into the form of Rodin's classic sculpture "The Thinker".
Now David Fay has created a new classic masterpiece for us. BattleTrot is currently available for private viewing by appointment only at Caesars Entertainment Studios in Las Vegas.