BATTLE TOGETHER: GROUP & CORPORATE SAVINGS!
YOU'VE SEEN THE TV SHOW, NOW PLAN YOUR SPECIAL EVENT AND COME EXPERIENCE THE DESTRUCT-A-THON!
Ready to witness an electrifying fusion of cutting-edge technology and thrilling combat? Assemble your team and march to the Las Vegas Destruct-A-Thon, a pulse-pounding spectacle presented by BattleBots that's unlike any other! From corporate outings to school excursions, a unique bachelor party, a romantic wedding inside the BattleBox, the ultimate birthday or bar mitzvah celebration, or even just a team of friends seeking an extraordinary adventure, we've got the perfect package to make your group's experience unforgettable.
EVENTS
Corporate Outings & Events

Celebrations, Special Occasions, and Parties

Exclusive Experiences

Unique Event Space

Hassle-Free Planning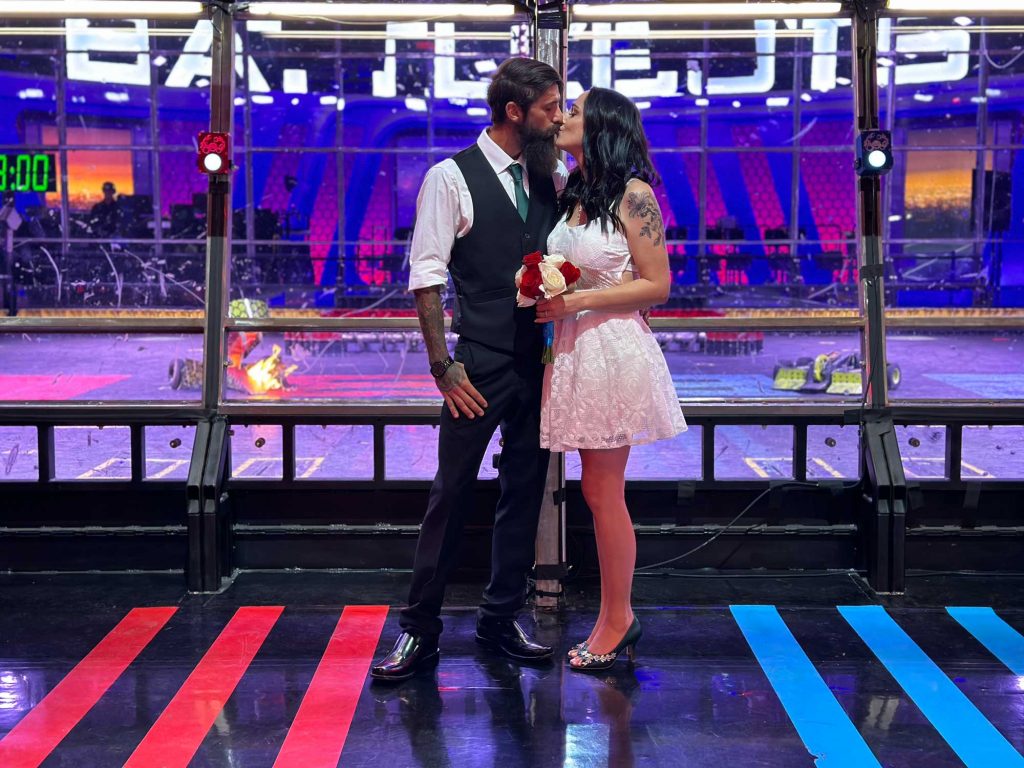 FAQ
What is the BattleBots Destruct-A-Thon show?
BattleBots Destruct-A-Thon is a thrilling and action-packed event where a selection of the fiercest fighting machines from the world of BattleBots come together for a special showcase of destruction. Similar to the regular BattleBots competitions seen on TV, this event is all about putting on an explosive display of metal munching mayhem and combat chaos. Learn more about Destruct-A-Thon here
Where is the BattleBots Destruct-A-Thon show held?
This event takes place at BattleBots Arena aka Caesars Entertainment Studios
4165 Koval Lane
Las Vegas NV 89109
The show takes place in the world-renowned BattleBox, the specially designed arena that is also used for the BattleBots World Championship TV show.
When is the next Destruct-A-Thon show, and how long does it last?
We have dates through the end of 2023 (2024 calendar coming soon). Currently, weekday shows are Tuesday – Thursday at 6:00pm and weekend shows are at 2:00pm (we're dark Monday and Friday). The show lasts from 70-80 minutes depending on the fights that evening. We will be dark from October 30th – December 2nd for the Las Vegas F1 Grand Prix.
Is there assigned seating?
There is no assigned seating, but we have four different seating area (Platinum, VIP, Premium, and Standard). Each area is first-come-first-serve seating so please arrive early. Doors open 1-hour ahead of any performance.
Is the BattleBots Destruct-A-Thon show family-friendly?
You betcha! In fact, we're hearing from fans that Destruct-A-Thon is the most family-friendly show in Las Vegas! That said, please be aware that the Destruct-A-Thon may feature intense and loud robot battles. Parental discretion is advised for younger children or those sensitive to loud noises and flashing lights.
Can we get a backstage tour of the Destruct-A-Thon Show?
Of course you can! We currently offer an extended after-show tour with a guided walkthrough of our facility, the BattleBox, the backstage Pit area, and meet and greets with the cast, crew and BOTS! We also offer meet-and-greet opportunities with the builders and drivers before and after the event, depending on their availability.
Are food and beverages available during the show?
Yes, we have a snacks, drinks and a bar on site. You can enjoy a variety of refreshments while witnessing the epic robot battles!
Is photography and videography allowed during the event?
Yes, you are welcome to take photos & videos – just no live streaming please. Feel free to share your experience on social media using the hashtag #battlebots, and please tag @battlebots. We've been know to share fan's posts!
Are there any special safety measures in place for the audience during the battles?
The safety of our audience is our top priority. The BattleBox Arena is designed with protective barriers and safety measures to ensure a secure viewing experience. We ask that all attendees follow the guidelines and instructions provided by event staff.
Is there parking?
Yes, there is limited parking for $10. There is a ride-share location drop/pick up location under the address 117 E. Flamingo Road, Las Vegas, NV 89109.