BATTLEBOTS World Championship VII
LIVE TV FILMING!!!
There's a robotic riot coming to Vegas—sparks will fly and robots will die right in front of your eyes. This is BattleBots, the hit robot fighting TV show, featuring the world's favorite bloodthirsty bots. Watch all the action inside the BattleBox as we film the 7th BattleBots season for Discovery Channel, live in Vegas – October 18-30!
YOU COULD BE SEEN ON TV!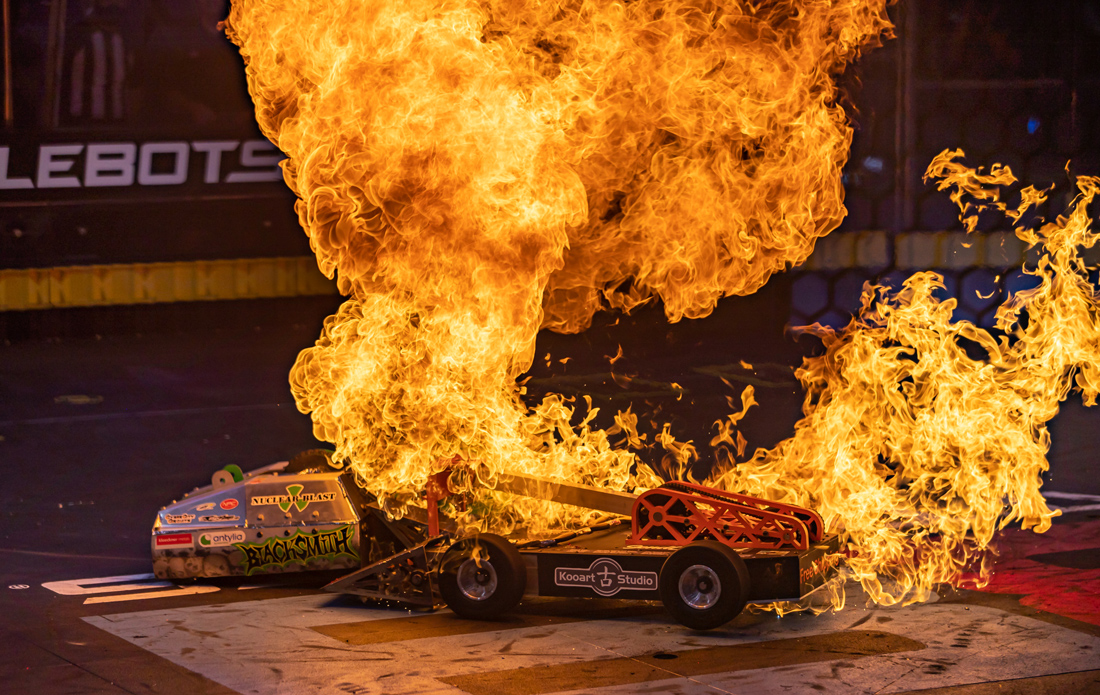 Standard Seats
Great view of the robot action
On site exclusive BattleBots merch stores
On site snacks and drinks
VIP Seats
Best view center seats
Exclusive BattleBots World Championship VII lanyard
Separate VIP entrance with early entry
Discounts on all merchandising
Discounts on snacks and drinks
Dedicated VIP lanes at merch booths and food areas
Pit tours are currently not available, but we might be able to offer them at the venue as a paid add-on with a deep discount for VIP ticket holders
Weekday Savings
Amazing fights at spectacular savings! Enjoy discount pricing for our Tuesday and Wednesday shows which feature qualifying rounds (Tue/Wed Oct 18/19), the round of 32 (Tuesday, Oct 25th) and the round of 16 (Wednesday, Oct 26th)! All the top robots will be there.
Venue Location
The BattleBots World Championship VII will take place at:
Caesars Entertainment Studios
4165 Koval Lane
Las Vegas, NV 89109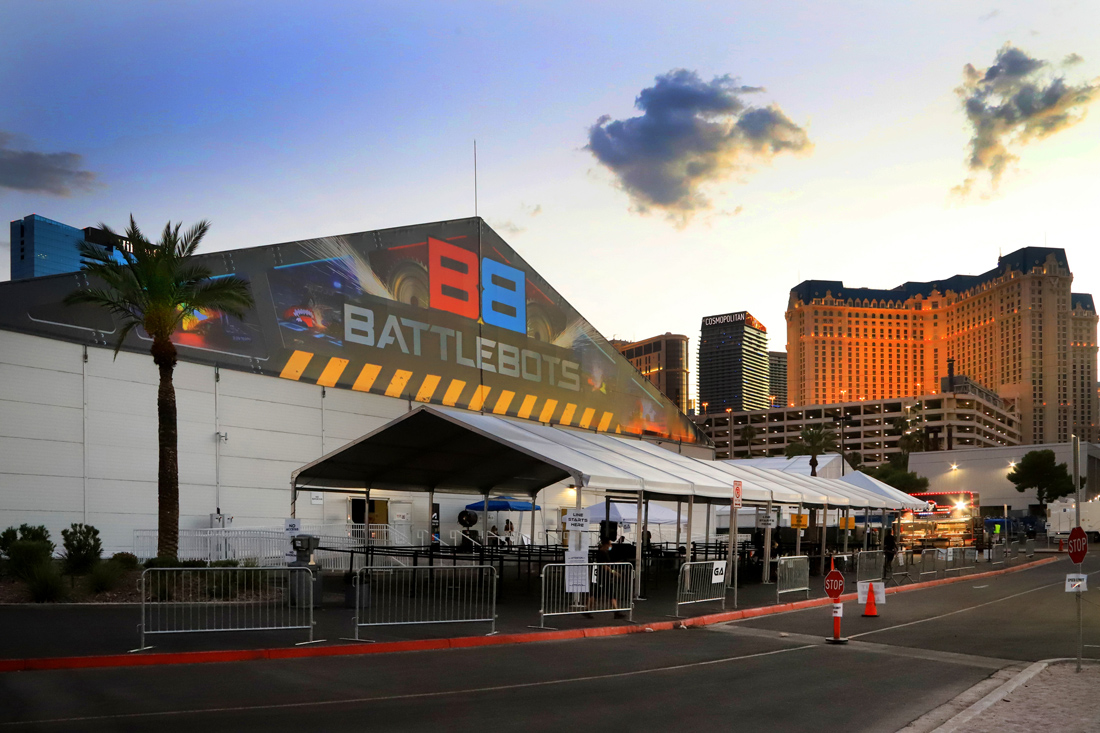 Be On Time: As this is a TV taping, please show up for your chosen session on time. Late-comers may not be admitted. Tickets are non-refundable.
Be Stylish: You might be seen on TV, so look great! Dress in full-fan-regalia or come as your favorite robot. Show the world how great BattleBots fans are! There must be NO LOGOS on your shirts/hats etc, other than logos on Official BattleBots® gear. There will be a sign-making booth on site complete with a list of matchups for your sign-making pleasure. Or bring your own!
Be Strong: Plan on staying for the duration. Each filming session can last between 3-4 hours, and the bot builders need your shouts, screams and support right the way through. We have the best TV audiences in the whole of the television industry—we are counting on you! So please, if you can, commit to staying for ALL the matches during your ticketed session.
Be Cool: NO spoilers, NO photos, NO videos. You must keep what you see at the event secret—don't spoil it for the TV viewers. When purchasing your ticket, you must agree and accept the Audience Waiver: Revocable License and Confidentiality Agreement.
Be Parentally Guided: Kids under 16 must be accompanied by an adult.
Be Awesome: This is a TV taping for a show that will be seen around the world—so bring your energy and enthusiasm, make signs, dress up, go crazy!
Be Healthy: Because this is a TV taping subject to union guidelines, all attendees must be fully vaccinated to minimize infection, with proof of vaccination and symptom checks required prior to entry.
IMPORTANT NOTE
This is a TV taping, so expect delays. We'll do our best to bring the fights out as quickly as possible, but we need to capture all the required shots for the TV show (some of which might include you!). Your patience is greatly appreciated. That said, bring a small cushion, some water (no glass bottles) and settle in for a fantastic spectacle you'll never forget.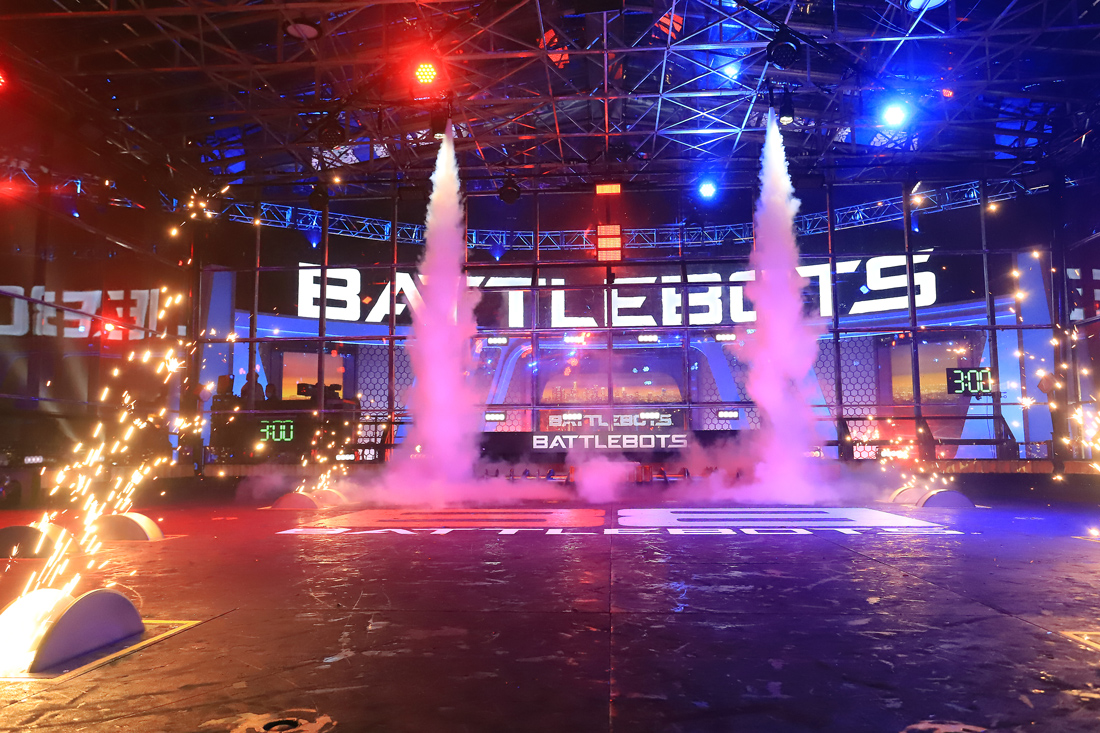 Parking
Signs will be posted on site directing attendees to parking and ride share pick-up/drop-off locations. Please endeavor to arrive 1-hour prior to showtime.
Babies & Infants
We do not recommend babies and young infants attend as the event is long and can be loud. Parent should supply hearing protection for all children. Toddlers 2 and under may enter for free so long as they sit on a lap.
Further Information and Disclaimers
Because this is a TV taping subject to union guidelines, all attendees must be fully vaccinated to minimize infection, with proof of vaccination and symptom checks required prior to entry.
Tickets are non-refundable.
We reserve the right to refuse admission to anyone who we deem a security risk of any kind.
This event involves inherent risks of injury due to its nature and attendees waive any claims related thereto.
All attendees consent to being filmed for appearance on the BattleBots TV show and a search and the potential signing of an audience waiver prior to entry.
Each ticket purchased will be subject to the full terms set forth in a Revocable License and Confidentiality Agreement which can be reached directly via the web at  BattleBots.com/audience-waiver.
Event types are subject to change.
For questions or more information regarding the BattleBots TV taping or anything on this page, please email BLVBoxOffice@caesars.com or battlebotsevents@gmail.com.