Get your tickets to BattleBots 2019!
Tickets are ON SALE NOW for BattleBots 2019 taking place April 12-22 in Long Beach CA. Just click over to our Eventbrite page and purchase those tickets today!

Get Tickets
BattleBots 2019 Live MegaEvent + TV Taping for 2019 Series.
April 12-22 (2 session per day)
---
Live Robot Combat like never before.
Your chance to be seen on TV.
Tickets on Sale Now – Limited Seats!
The hit show BattleBots is back, where world-class fighting machines battle to the death in the hopes of winning the most prestigious prize in all of sports: The Giant Nut. Once again, we'll be descending upon Long Beach, CA to do glorious battle in front of live audiences. We'll have two ticketed sessions per day starting April 12 through April 22 culminating in the crowning of the 2019 BattleBots World Champion. Don't miss the spectacle of live robot combat—get your tickets now!
At every live event session, ticket buyers will witness metal-munching, head-to-head, monster matchups that fans have always dreamt of. Each live session will feature one-of-a-kind fight cards containing multiple main events between legendary BattleBots All-Stars; Undercard fights from incredible newcomers; Battles between the best international bots from overseas; and jaw-dropping exhibition matches, robot rumbles, grudge rematches and the like will all be on display during the 2019 event.
All of this will be filmed for our new, 16-episode series premiering this Spring on television, and YOU can be part of the live audience. Not only will you witness the awesome spectacle of robot-on-robot, gear-grinding mayhem, but you might be seen on the new TV show!
So get your tickets now! Space is limited! Bring your friends, bring your family, have a great time and experience the robot fighting awesome saucesomeness that is BattleBots!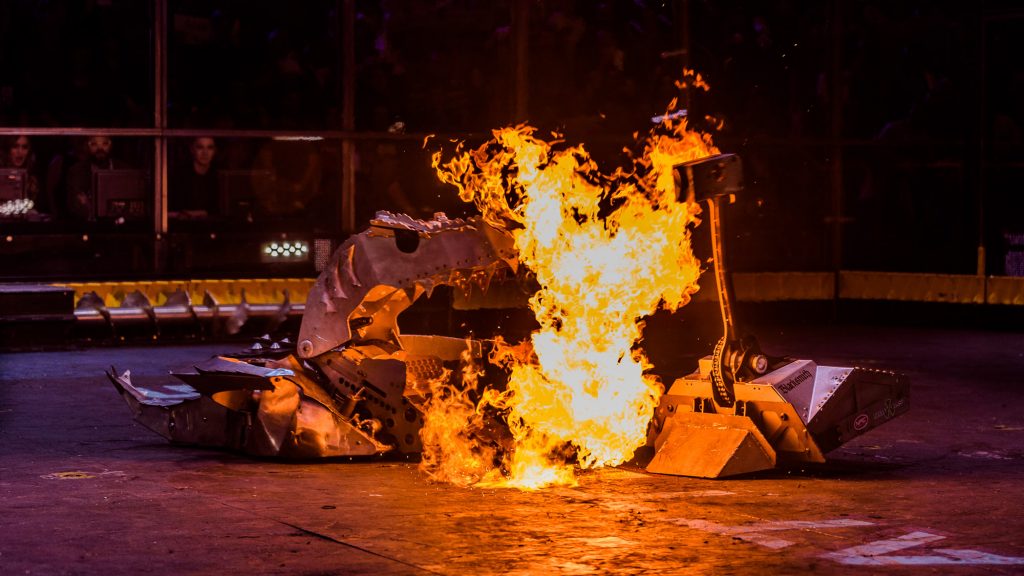 
Get Tickets
---
SIX SIMPLE RULES:
Be On Time: Please show up for your chosen session on-time, latecomers will have their seats given to stand-by patrons and will not be granted access. Tickets are non-refundable.
Be Strong: Please plan on staying for the entire duration of your ticketed event. A typical session can last between 3-4 hours, and we will need you pumped and excited for all the incredible robot fights. We are counting on you to be part of our great TV audience. Please commit to staying for ALL the matches during your session(s) as leaving will not be permitted except in extraordinary circumstances.
Be Cool: NO spoilers, NO photos, NO videos. You must keep what you see at the event private and don't spoil it for the TV viewers. Before purchasing your ticket, you must agree and accept the Audience Waiver: Revocable License and Confidentiality Agreement.
Be Stylish: You might be seen on TV so look good! Dress sharp, dress cool, dress in full-fan-regalia or as your favorite bot. Show the world how great BattleBots fans are. Please no logo wear (shirts, hats, etc.), except BattleBots gear, of course. If you wear logo'd apparel (with the exception of BattleBots apparel), we will ask you to remove or cover it up.
Be Parentally Guided: Kids under 16 must be accompanied by an adult.
Be Awesome: This is a TV taping for a show that will be seen around the world—so bring your energy and enthusiasm, make signs, dress up, go crazy!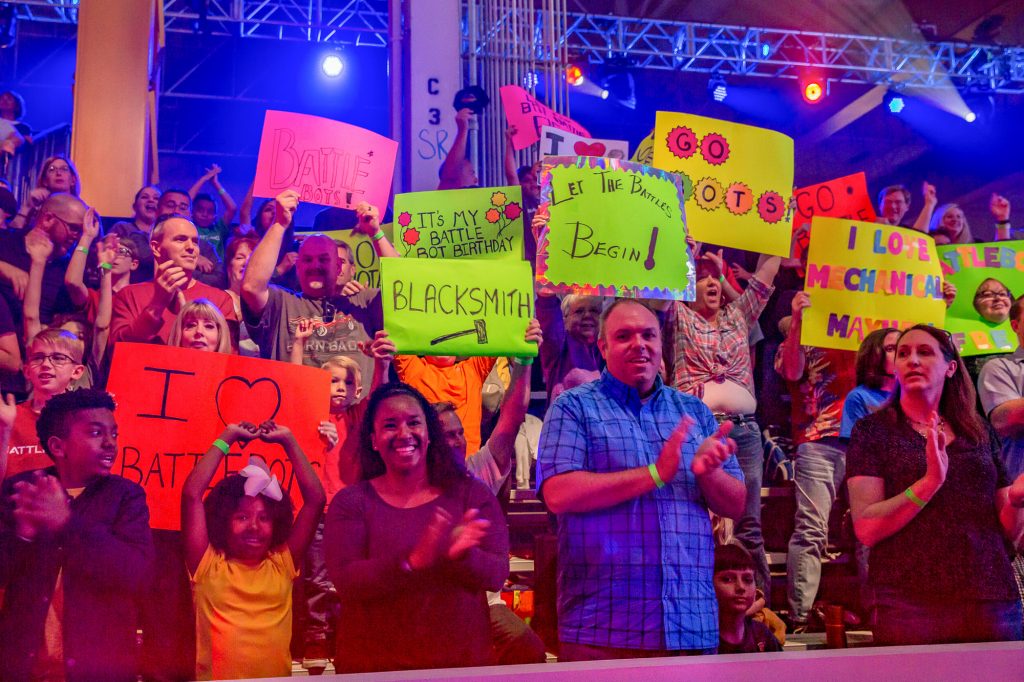 ---
MORE ON OUR TV FORMAT:
Past BattleBots events were all about the single-elimination tournament: Who is advancing, who is going to make it into the finals, etc. The new format is all about the fights and creating fight cards with the most incredible match-ups ever. Ticketed sessions will feature head-to-head match-ups, rumbles and other events that fans have always dreamt of. As the fights progress, results will be tallied to determine the top 16 bots, and those 16 will fight for the Giant Nut trophy on the last three days of the event (specific sessions TBD). Along the way to the Giant Nut we may hold various special events such as USA vs. The World, The Desperado Flash Tournament and other surprises. But no matter which session you purchase tickets for, each promises to be an amazing display of robot combat glory!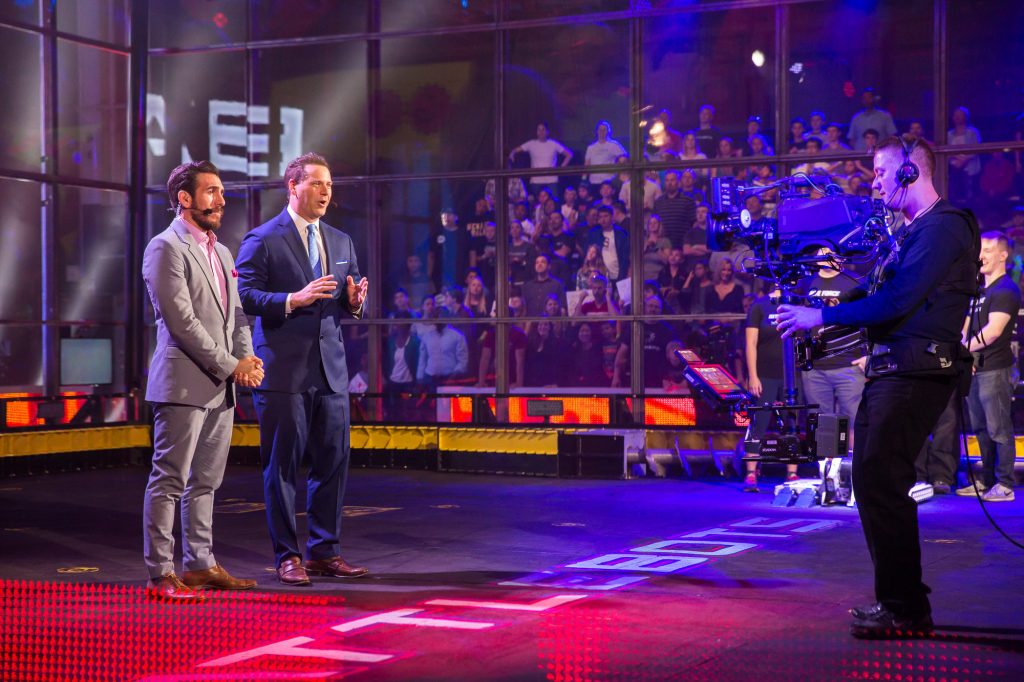 ---
IMPORTANT NOTE:
This is a TV taping so expect delays. We'll do our best to bring the fights out as quickly as possible but we need to capture all the required shots for the TV show (some of which might include you!). Your patience is greatly appreciated. That said, bring a small cushion, some water (no glass bottles) and settle in for a fantastic spectacle you'll never forget.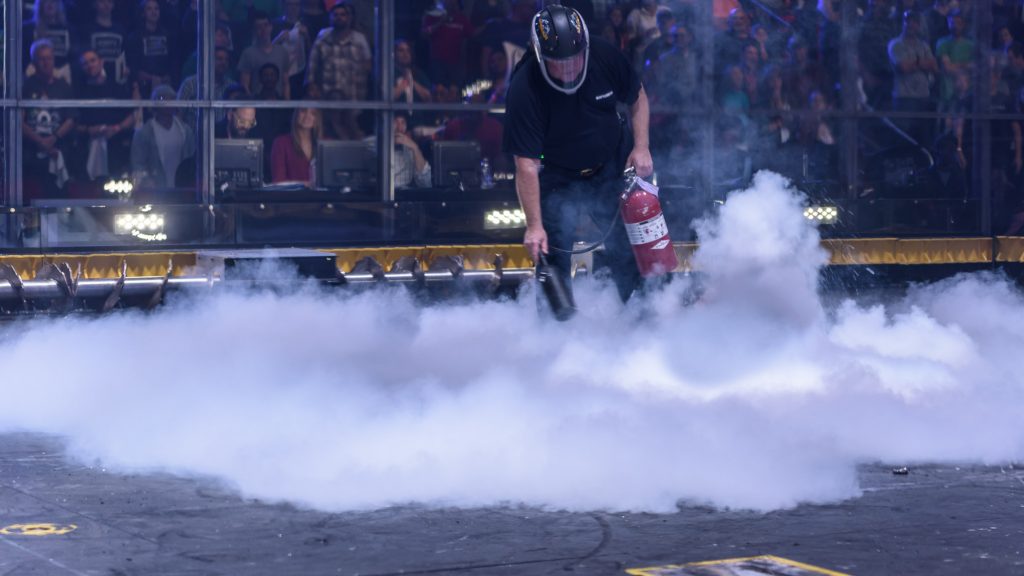 ---
TIP!
Insiders know the early days of the event include some of the best fights. Come early and you can see the bots brand spanking new before the battle scars set in.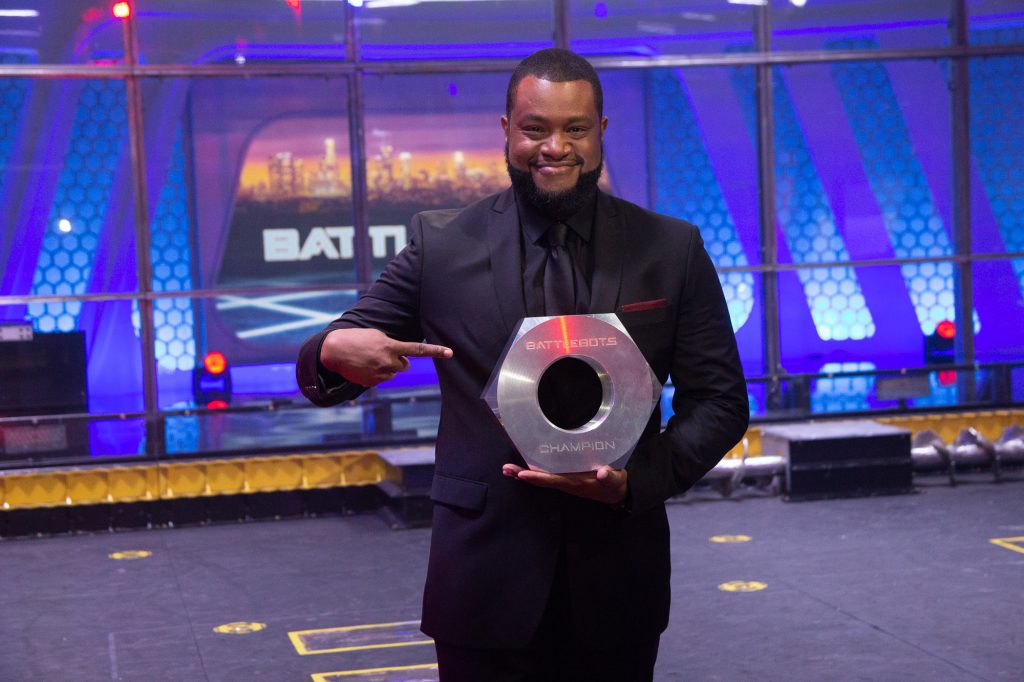 ---
PREMIER TICKETS:
In additional to General Admission tickets, this year we will be selling Premier Tickets that will offer you the following extra perks:
Premium parking: Premier ticket buyers will gain access to the premium parking area that is closer to the venue. Less walking, less stress, your premium parking area awaits you.
Early entry to the venue seating: Premier ticket buyers will gain early access to venue seating before General Admission ticket holders. Get in early, grab your seats and settle in before the general public.
NOTE: Premier tickets holders may NOT save seats for other ticket holders.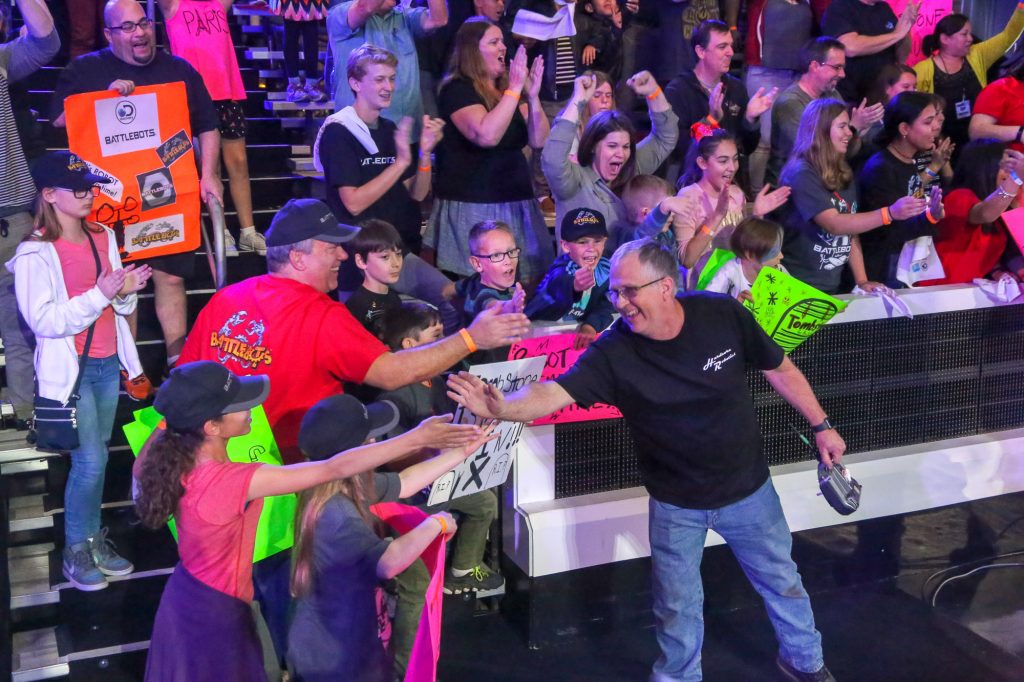 ---
TUNNEL TICKETS:
If you've seen BattleBots on TV, you'll know that the robots that fight in our Main Events enter through a tunnel where they wave to the audience before their big fight. BattleBots is excited to announce that we have a limited number of seats available that are right next to this tunnel, and they offer a unique experience that the other seating options don't deliver:
Tunnel Tickets are one of the best place to sit if you want to be seen on the TV show, as cameras will be on you and your reactions as the Main Event robots enter for their fight. So dress up, wave signs and get noticed.
Tunnel Tickets are in an area where much of the show production is happening so you might also catch a glimpse of all the goings on behind the scenes: Things like Faruq practicing his lines, or Chris and Kenny prepping for an intro or interview.
Tunnel Tickets are behind the BattleBox Arena and have a restricted view of the fights—hence the discounted $10 price—but don't worry, there will be a large monitor setup so you will be able to see the fights just fine.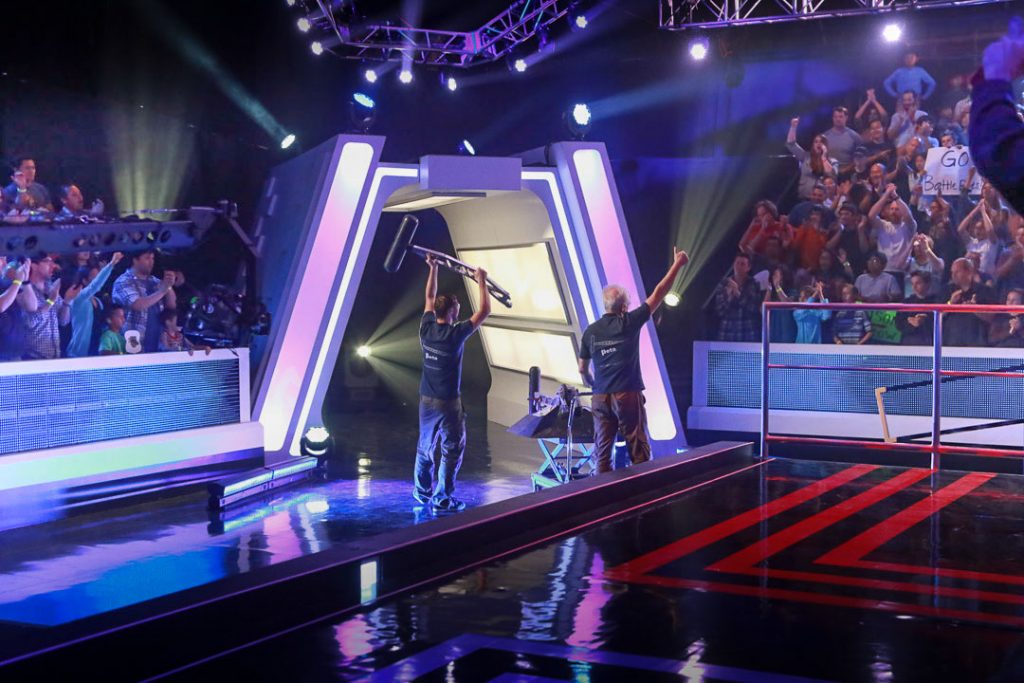 ---
$10 OFF WEEKDAY TICKETS:
When you purchase tickets on our Eventbrite page, be sure to enter the promotional code MondayMonday to receive $10 off WEEKDAY tickets (with the exception of Friday evening or any Tunnel Ticket). You enter this code on the Eventbrite ticket buying window for any weekday session (the code will not work for weekend sessions or the Friday evening session). This discount is good for both General and Premier weekday tickets!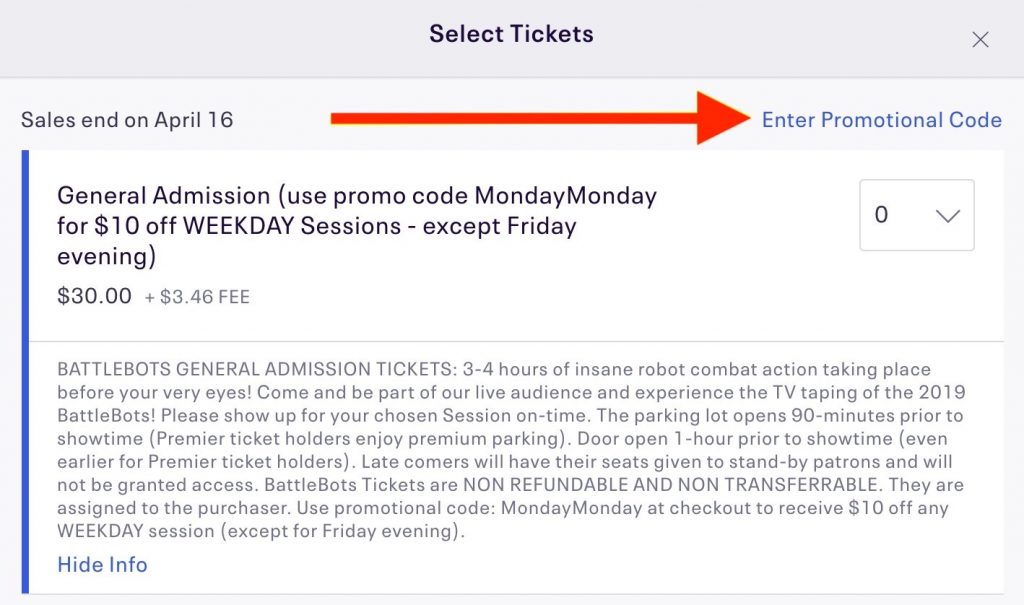 ---
SCHEDULE:
Friday, 4/12/19: Session 1 – 12:00 PM – 4:00 PM
Friday, 4/12/19: Session 2 – 6:00 PM – 10:00 PM
Saturday, 4/13/19: Session 3 – 12:00 PM – 4:00 PM
Saturday, 4/13/19: Session 4 – 6:00 PM – 10:00 PM
Sunday, 4/14/19: Session 5 – 12:00 PM – 4:00 PM
Sunday, 4/14/19: Session 6 – 6:00 PM – 10:00 PM
Monday, 4/15/19: DARK
Tuesday, 4/16/19: Session 7 – 12:00 PM – 4:00 PM
Tuesday, 4/16/19: Session 8 – 6:00 PM – 10:00 PM
Wednesday, 4/17/19: Session 9 – 12:00 PM – 4:00 PM
Wednesday, 4/17/19: Session 10 – 6:00 PM – 10:00 PM
Thursday, 4/18/19: Session 11 – 12:00 PM – 4:00 PM
Thursday, 4/18/19: Session 12 – 6:00 PM – 10:00 PM
Friday, 4/19/19: DARK
Saturday, 4/20/19: Session 13 – 12:00 PM – 4:00 PM
Saturday, 4/20/19: Session 14 – 6:00 PM – 10:00 PM
Sunday, 4/21/19: Session 15 – 12:00 PM – 4:00 PM
Sunday, 4/21/19: Session 16 – 6:00 PM – 10:00 PM
Monday, 4/22/19: Session 17 – 12:00 PM – 4:00 PM
Monday, 4/22/19: Session 18 – 6:00 PM – 10:00 PM
Each Session is ticketed separately.

Get Tickets
---
PARKING:
Parking is available on site at parking lot 8 (we'll have signs out to direct you):
Parking Lot 8
2770 Industry Ave,
Lakewood, CA 90712
---
FOOD AND MERCH:
Food and cool BattleBots merchandise will be available for purchase.