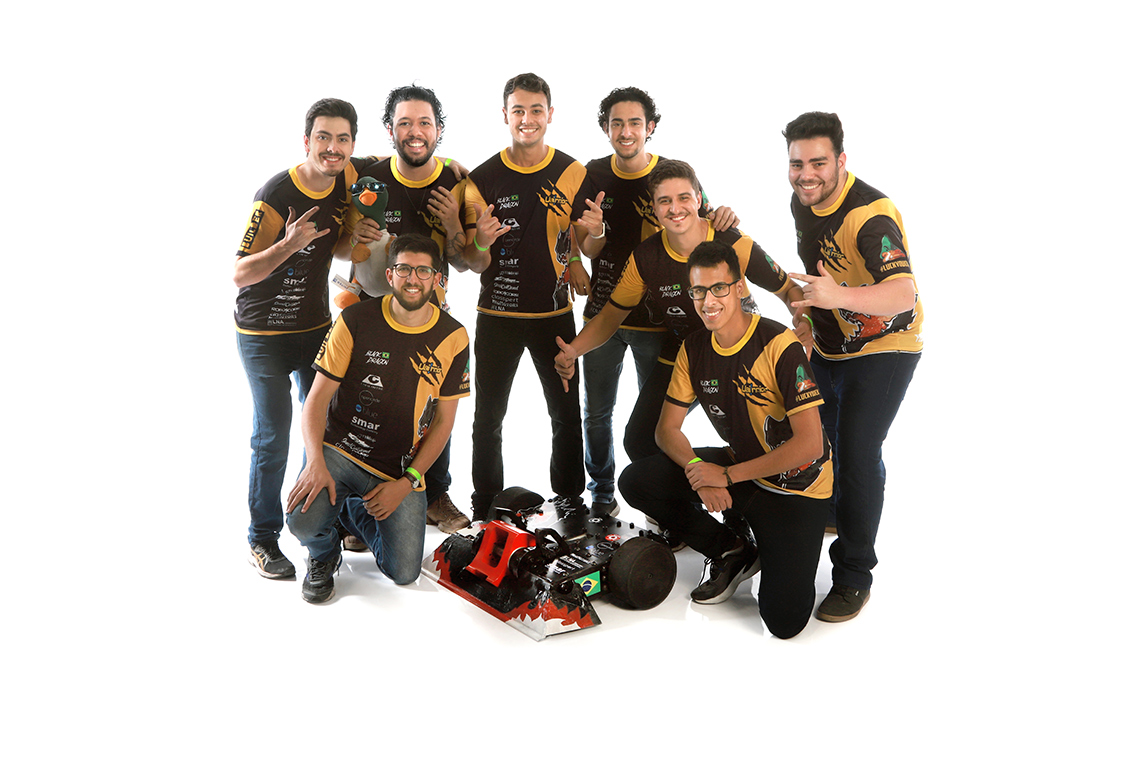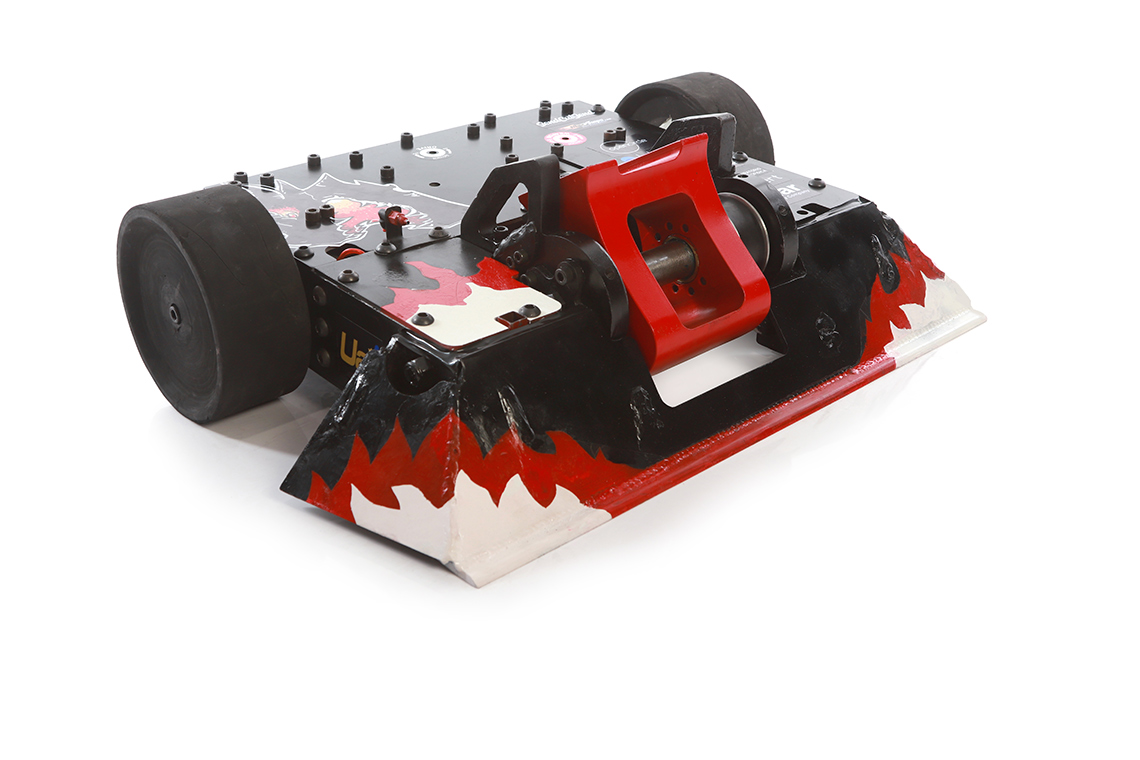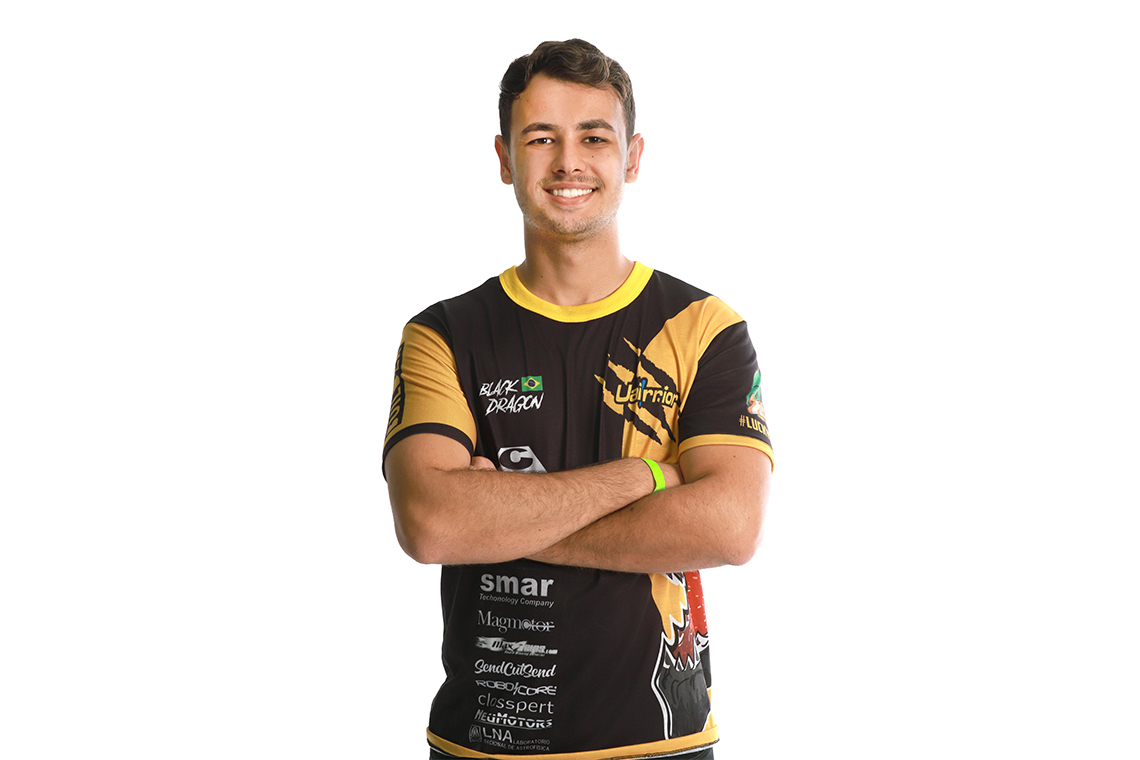 Robot:
Black Dragon
Builder:
Gabriel Gomes
Type:
Egg Beater Spinner
Job:
Engineering student
Team:
Team Uai!rrior of Robotics
Gabriel Gomes, Tarcisio Rezende, João Marcos, Moises Araujo, Mateus Cintra, Nicholas Santana, Felipe Duarte, Vinicius Malaquias.
Years competing:
20 years
Hometown:
Itajubá, Minas Gerais, Brazil
Favorite tool:
Ratchet Wrench and multimeter
Favorite robot:
Blip
Interesting fact:
Duck is our lucky mascot. Find Duck here: facebook.com/duckbolado and instagram.com/mano.duck.
| Stats | Career | WCVII | 2021 | 2020 | 2019 |
| --- | --- | --- | --- | --- | --- |
| Total matches | 31 | 9 | 8 | 7 | 7 |
| Win percentage | 65% | 56% | 63% | 71% | 71% |
| Total wins | 20 | 5 | 5 | 5 | 5 |
| Losses | 11 | 4 | 3 | 2 | 2 |
| Knockouts | 12 | 4 | 3 | 2 | 3 |
| KO percentage | 39% | 44% | 38% | 29% | 43% |
| Average knockout time | 97 s | 129 s | 81 s | 111 s | 68 s |
| Knockouts against | 2 | 2 | 0 | 0 | 0 |
| KO against percentage | 6% | 22% | 0% | 0% | 0% |
| Judges decision wins | 9 | 0 | 4 | 3 | 2 |
| Season | Round | Matchup | Results |
| --- | --- | --- | --- |
| WCVII | Episode 704 | Black Dragon vs Monsoon | Black Dragon by KO 2m5s |
| WCVII | Episode 708 | Quantum vs Black Dragon | Quantum by JD |
| WCVII | Episode 711 | Beta vs Black Dragon | Black Dragon by KO 1m10s |
| WCVII | Episode 714 | Black Dragon vs Riptide | Riptide by KO 1m1s |
| WCVII | Episode 717 | RIPeroni vs Black Dragon | Black Dragon by KO 2m57s |
| WCVII | Episode 718 | Black Dragon vs Ribbot | Ribbot by KO 2m14s |
| WCVII | Episode 721 | Black Dragon vs Whiplash | Whiplash by JD |
| WCVII | Episode 721 | Blip vs Black Dragon | Black Dragon by KO 2m25s |
| WCVII | Episode 721 | MaDCaTter vs Black Dragon | Black Dragon by JD |
| 2021 | Episode 603 | Black Dragon vs Icewave | Black Dragon by KO 1m10s |
| 2021 | Episode 606 | Rotator vs Black Dragon | Rotator by JD |
| 2021 | Episode 608 | Black Dragon vs Claw Viper | Black Dragon by KO 1m37s |
| 2021 | Episode 612 | MaDCaTter vs Black Dragon | Black Dragon by JD |
| 2021 | Episode 613 | Black Dragon vs Hydra | Hydra by JD |
| 2021 | SCSF 5 | Overhaul vs Black Dragon | Black Dragon by JD |
| 2021 | SCSF 5 | Perfect Phoenix vs Black Dragon | Black Dragon by KO 1m16s |
| 2021 | SCSF 5 | Whiplash vs Black Dragon | Whiplash by JD |
| 2020 | Episode 502 | Kraken vs Black Dragon | Black Dragon by JD |
| 2020 | Episode 505 | Black Dragon vs Claw Viper | Black Dragon by KO 1m33s |
| 2020 | Episode 509 | Black Dragon vs Copperhead | Copperhead by JD |
| 2020 | Episode 511 | Black Dragon vs SlamMow | Black Dragon by KO 2m8s |
| 2020 | Episode 513 | Black Dragon vs Tombstone | Black Dragon by JD |
| 2020 | Episode 514 | Ribbot vs Black Dragon | Black Dragon by JD |
| 2020 | Episode 514 | Whiplash vs Black Dragon | Whiplash by JD |
| 2019 | Episode 15 | Black Dragon vs Lock-Jaw | Lock-Jaw by JD |
| 2019 | Episode 2 | Texas Twister vs Black Dragon | Texas Twister by JD |
| 2019 | Episode 5 | Black Dragon vs Bloodsport | Black Dragon by KO 1m6s |
| 2019 | Episode 8 | Black Dragon vs Captain Shrederator | Black Dragon by KO 1m18s |
| 2019 | Episode 8 | Black Dragon vs War Hawk | Black Dragon by KO 1m1s |
| 2019 | Episode 8 | Minotaur vs Black Dragon | Black Dragon by JD |
| 2019 | Not Aired | Skorpios vs Black Dragon | Black Dragon by JD |