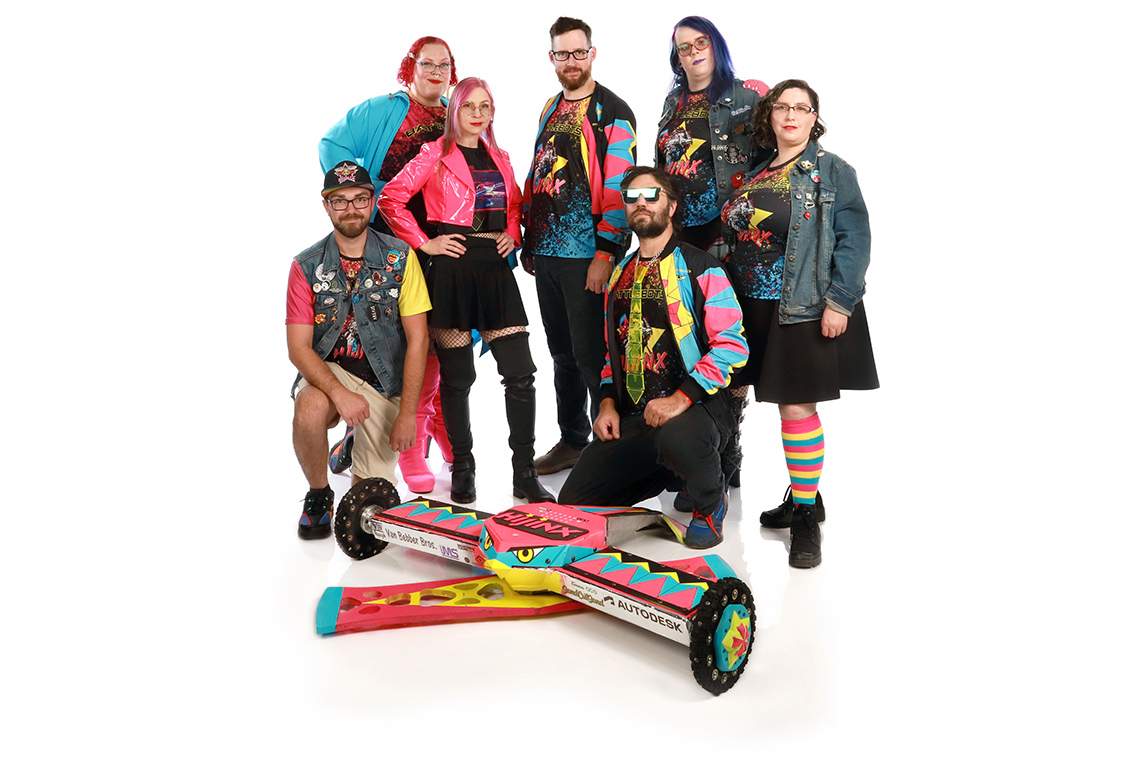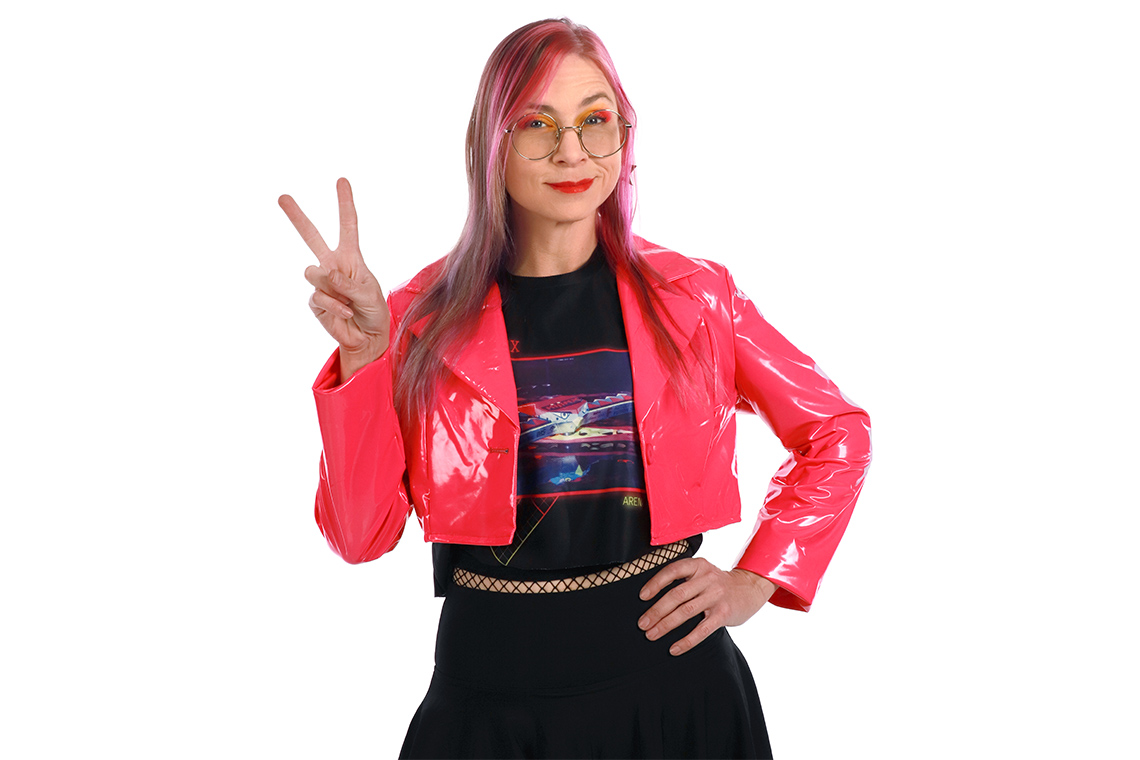 Robot:
HiJinx
Builder:
Jen Herchenroeder
Type:
Bar spinner (horizontal)
Job:
Subscale Flight Test Engineer
Team:
Offbeat Robotics
Jen Herchenroeder, Orion Beach, Paloma Fautley, Madeline Hagan, Jackie Gerstein, Geno Esposito, Zack Robinson, Chas Leichner, Cameron Schaefer
Years competing:
10 years
Hometown:
Oakland, CA
Favorite tool:
Multi-process welder
Favorite robot:
The helpful robot friends from "Batteries Not Included"
Interesting fact:
Fun Fact! Owl feathers have a leading edge shaped like a comb and a trailing edge with a fringe; these funnel air smoothly over the wing and dampen the sound. An owl's enormous wings, relative to its body size, also provide greater lift and enable it to fly slowly — as few as two miles per hour.
| Stats | Career | WCVII | 2021 | 2020 |
| --- | --- | --- | --- | --- |
| Total matches | 15 | 4 | 5 | 6 |
| Win percentage | 40% | 25% | 40% | 50% |
| Total wins | 6 | 1 | 2 | 3 |
| Losses | 9 | 3 | 3 | 3 |
| Knockouts | 5 | 1 | 1 | 3 |
| KO percentage | 33% | 25% | 20% | 50% |
| Average knockout time | 109 s | 112 s | 121 s | 94 s |
| Knockouts against | 7 | 3 | 1 | 3 |
| KO against percentage | 47% | 75% | 20% | 50% |
| Judges decision wins | 1 | 0 | 1 | 0 |
| Season | Round | Matchup | Results |
| --- | --- | --- | --- |
| WCVII | Episode 702 | Big Dill vs HiJinx | HiJinx by KO 1m52s |
| WCVII | Episode 706 | Captain Shrederator vs HiJinx | Captain Shrederator by KO 2m22s |
| WCVII | Episode 709 | RIPeroni vs HiJinx | RIPeroni by KO 1m41s |
| WCVII | Episode 715 | HiJinx vs Switchback | Switchback by KO 47s |
| 2021 | Episode 602 | HiJinx vs Mammoth | Mammoth by KO 1m44s |
| 2021 | Episode 606 | Kraken vs HiJinx | HiJinx by JD |
| 2021 | Episode 609 | SubZero vs HiJinx | HiJinx by KO 2m1s |
| 2021 | Episode 611 | SawBlaze vs HiJinx | SawBlaze by JD |
| 2021 | SCSF 5 | HiJinx vs Whiplash | Whiplash by JD |
| 2020 | Bounty Beta | Bloodsport vs HiJinx | Bloodsport by KO 2m10s |
| 2020 | Bounty Beta | SlamMow vs HiJinx | HiJinx by KO 2m14s |
| 2020 | Episode 502 | HiJinx vs Claw Viper | Claw Viper by KO 2m7s |
| 2020 | Episode 509 | HiJinx vs Chomp | HiJinx by KO 1m49s |
| 2020 | Episode 511 | Upper Cut vs HiJinx | Upper Cut by KO 33s |
| 2020 | Not Aired | Tracer vs HiJinx | HiJinx by KO 39s |