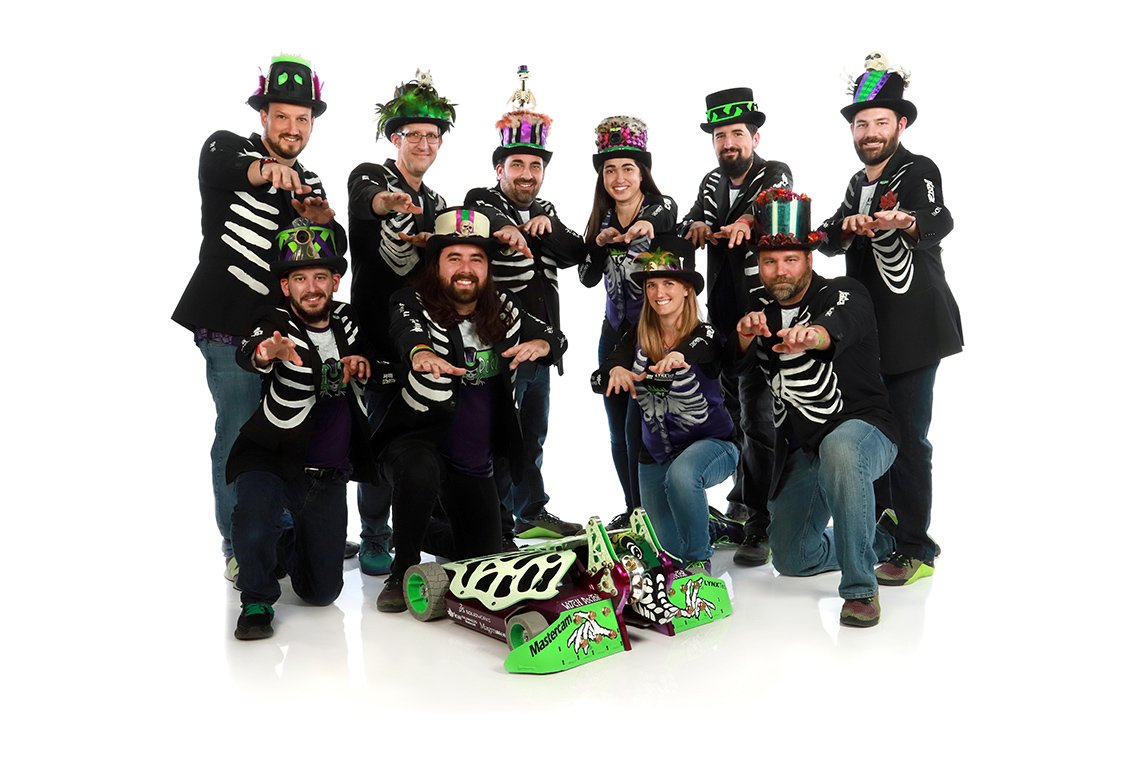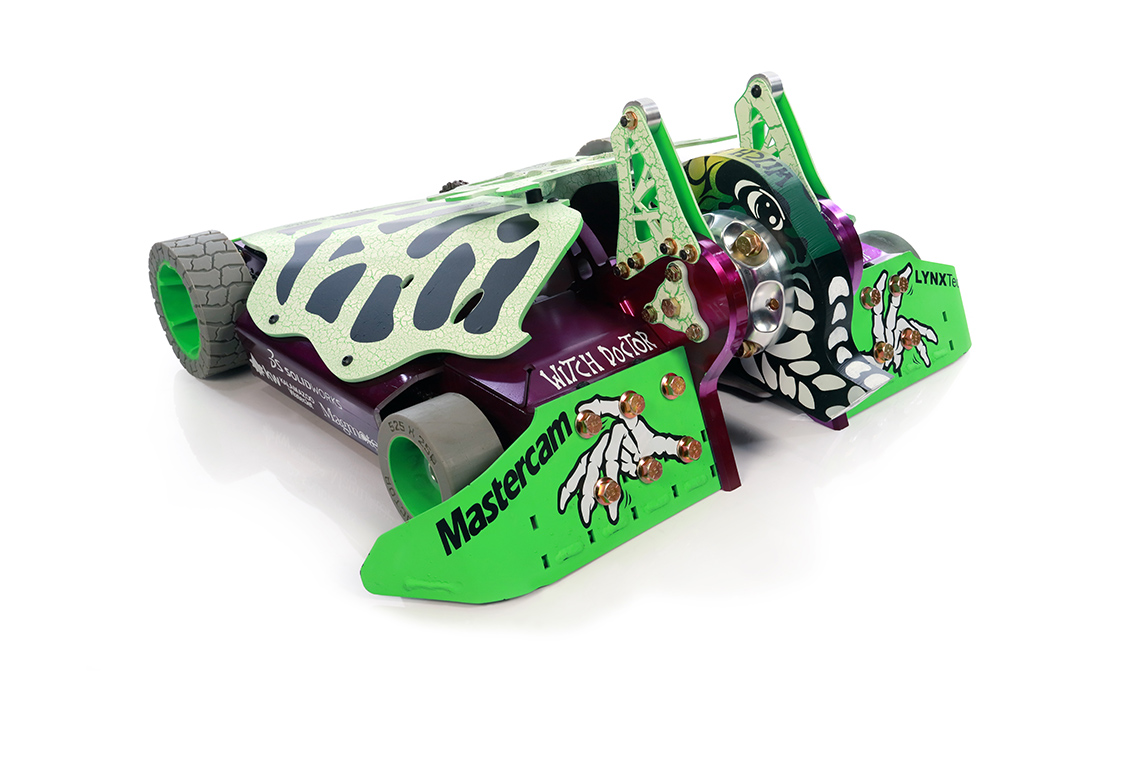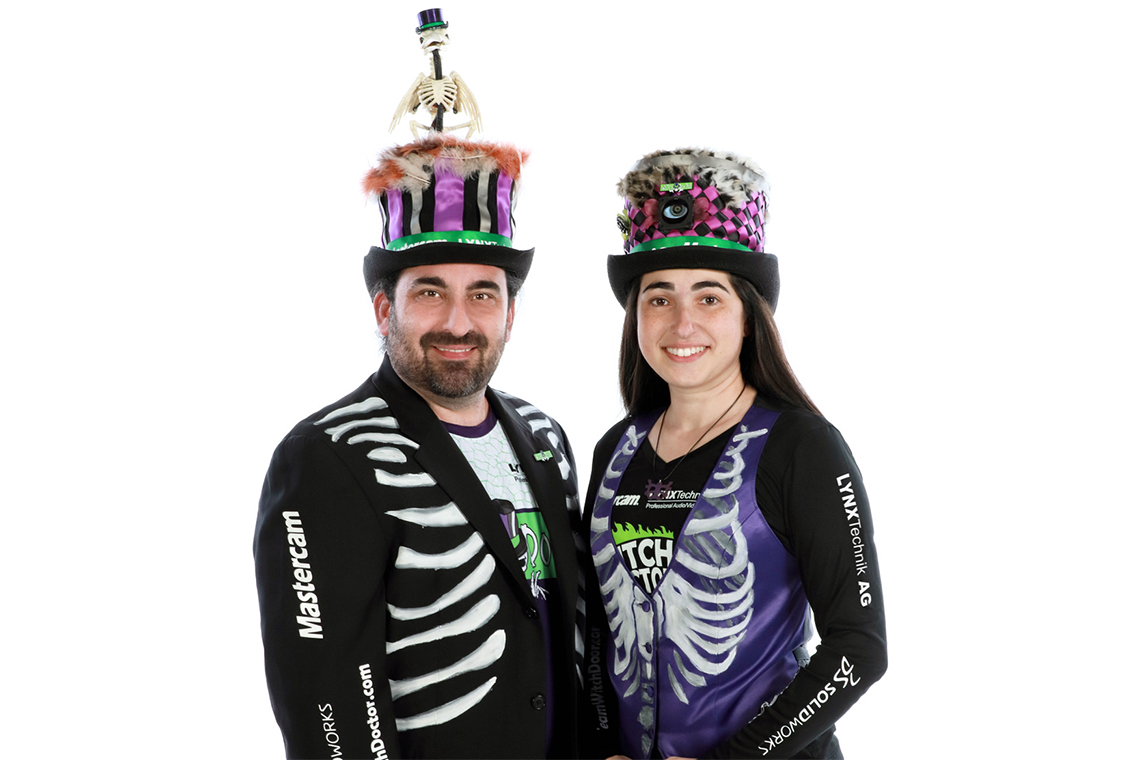 Robot:
Witch Doctor
Builder:
Andrea and Mike Gellatly
Type:
Disc spinner (vertical)
Job:
Medical Device Engineers
Team:
Team Witch Doctor
Andrea Gellatly, Michael Gellatly, Paul Grata, Christian Chiriboga, Katheryn Sharp, Steven Sharp, Rick Pease, Andrew Rudolph, Kurtis Wanner, Brett Heininger
Years competing:
19 years
Hometown:
Miami, Florida
Favorite tool:
HyperShock's impact driver
Favorite robot:
Makey from Maker Faire Orlando!
Interesting fact:
We're partnering with Magic Wheelchair, a nonprofit organization that builds epic costumes for kiddos in wheelchairs — at no cost to families. Their mission is to bring communities together to create unforgettable moments for children around the world by transforming their wheelchairs into magic. We've helped build 2 epic costumes so far, and we're looking forward to making a bigger impact through this partnership!
| Stats | Career | WCVII | 2021 | 2020 | 2019 | 2018 | 2016 | 2015 |
| --- | --- | --- | --- | --- | --- | --- | --- | --- |
| Total matches | 43 | 7 | 12 | 6 | 8 | 5 | 2 | 3 |
| Win percentage | 67% | 71% | 75% | 50% | 88% | 60% | 50% | 33% |
| Total wins | 29 | 5 | 9 | 3 | 7 | 3 | 1 | 1 |
| Losses | 14 | 2 | 3 | 3 | 1 | 2 | 1 | 2 |
| Knockouts | 21 | 4 | 7 | 2 | 4 | 2 | 1 | 1 |
| KO percentage | 49% | 57% | 58% | 33% | 50% | 40% | 50% | 33% |
| Average knockout time | 88 s | 92 s | 102 s | 108 s | 124 s | 67 s | 42 s | 84 s |
| Knockouts against | 10 | 0 | 3 | 1 | 1 | 2 | 1 | 2 |
| KO against percentage | 23% | 0% | 25% | 17% | 13% | 40% | 50% | 67% |
| Judges decision wins | 8 | 1 | 2 | 1 | 3 | 1 | 0 | 0 |
| Season | Round | Matchup | Results |
| --- | --- | --- | --- |
| WCVII | Episode 701 | Ribbot vs Witch Doctor | Witch Doctor by KO 1m15s |
| WCVII | Episode 705 | Witch Doctor vs Fusion | Witch Doctor by JD |
| WCVII | Episode 709 | Gruff vs Witch Doctor | Witch Doctor by KO 1m35s |
| WCVII | Episode 715 | Minotaur vs Witch Doctor | Minotaur by JD |
| WCVII | Episode 716 | Witch Doctor vs Jackpot | Witch Doctor by KO 2m21s |
| WCVII | Episode 718 | Witch Doctor vs Lock-Jaw | Witch Doctor by KO 57s |
| WCVII | Episode 719 | Witch Doctor vs HUGE | HUGE by JD |
| 2021 | Episode 603 | Witch Doctor vs DUCK! | Witch Doctor by JD |
| 2021 | Episode 605 | End Game vs Witch Doctor | End Game by KO 1m8s |
| 2021 | Episode 610 | Rusty vs Witch Doctor | Witch Doctor by KO 55s |
| 2021 | Episode 611 | Mammoth vs Witch Doctor | Witch Doctor by KO 53s |
| 2021 | Episode 613 | Copperhead vs Witch Doctor | Witch Doctor by KO 1m |
| 2021 | Episode 614 | Witch Doctor vs Minotaur | Witch Doctor by JD |
| 2021 | Episode 614 | Witch Doctor vs SawBlaze | Witch Doctor by KO 1m15s |
| 2021 | Episode 614 | Witch Doctor vs Tantrum | Tantrum by KO 2m53s |
| 2021 | SCSF 5 | Whiplash vs Witch Doctor | Witch Doctor by KO 2m37s |
| 2021 | SCSF 6 | Witch Doctor vs End Game | End Game by KO 1m49s |
| 2021 | SCSF 6 | Witch Doctor vs Glitch | Witch Doctor by KO 2m26s |
| 2021 | SCSF 6 | Witch Doctor vs HyperShock | Witch Doctor by KO 2m49s |
| 2020 | Bounty Witch Doctor | Witch Doctor vs SubZero | Witch Doctor by KO 56s |
| 2020 | Episode 502 | Witch Doctor vs Hydra | Hydra by JD |
| 2020 | Episode 505 | Kraken vs Witch Doctor | Kraken by JD |
| 2020 | Episode 509 | SlamMow vs Witch Doctor | Witch Doctor by KO 2m40s |
| 2020 | Episode 512 | Skorpios vs Witch Doctor | Witch Doctor by JD |
| 2020 | Episode 513 | SawBlaze vs Witch Doctor | SawBlaze by KO 2m59s |
| 2019 | Episode 12 | Witch Doctor vs Gigabyte | Witch Doctor by KO 2m17s |
| 2019 | Episode 15 | Witch Doctor vs Blacksmith | Witch Doctor by KO 2m24s |
| 2019 | Episode 16 | Witch Doctor vs Bite Force | Bite Force by KO 1m56s |
| 2019 | Episode 16 | Witch Doctor vs Death Roll | Witch Doctor by JD |
| 2019 | Episode 16 | Witch Doctor vs SawBlaze | Witch Doctor by KO 2m26s |
| 2019 | Episode 2 | Shatter vs Witch Doctor | Witch Doctor by JD |
| 2019 | Episode 5 | Captain Shrederator vs Witch Doctor | Witch Doctor by KO 1m10s |
| 2019 | Episode 9 | Whiplash vs Witch Doctor | Witch Doctor by JD |
| 2018 | Day 1 Session 2 | Witch Doctor vs Yeti | Yeti by KO 1m24s |
| 2018 | Day 4 Session 2 | Witch Doctor vs Blacksmith | Witch Doctor by JD |
| 2018 | Day 6 Session 2 | Ultimo Destructo vs Witch Doctor | Witch Doctor by KO 54s |
| 2018 | Day 8 Session 1 | Overhaul vs Witch Doctor | Witch Doctor by KO 1m20s |
| 2018 | Sweet 16 2018 | Minotaur vs Witch Doctor | Minotaur by KO 1m39s |
| 2016 | Qualifiers Session 1 | Rotator vs Witch Doctor | Witch Doctor by KO 42s |
| 2016 | Round of 32 | Witch Doctor vs Red Devil | Red Devil by KO 1m27s |
| 2016 | Sunday Exhibition | Bite Force vs Witch Doctor vs Wrecks | Bite Force by KO 2m12s |