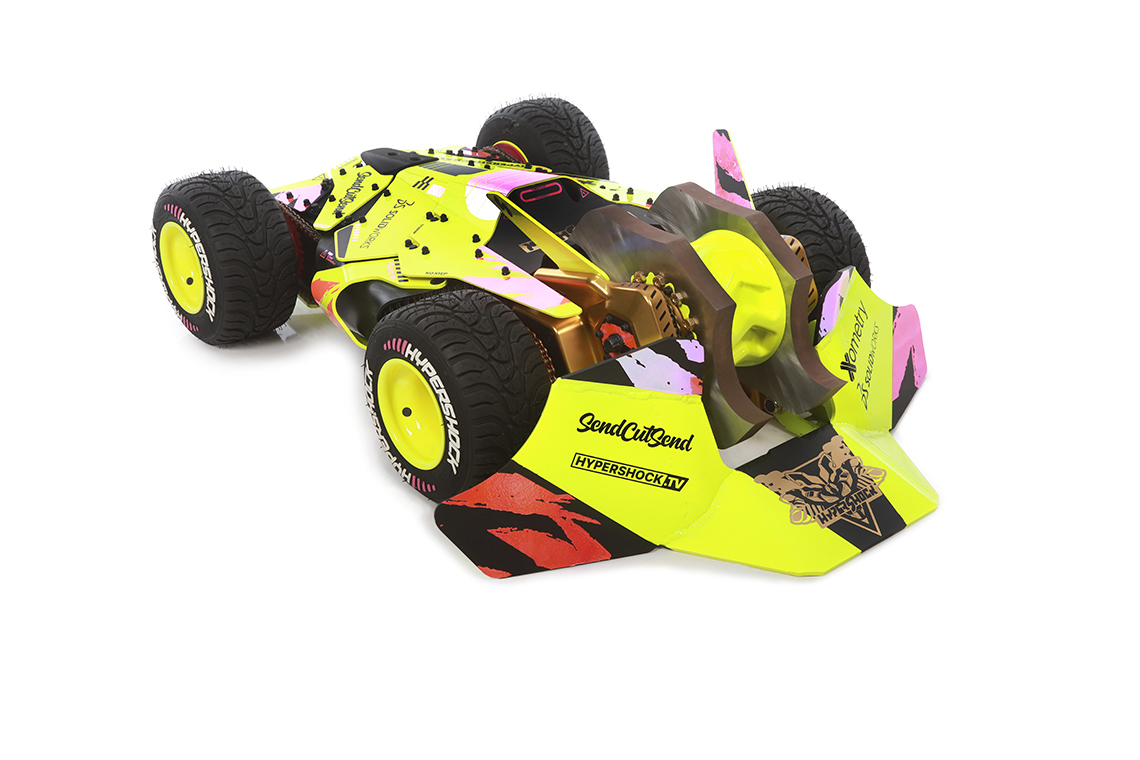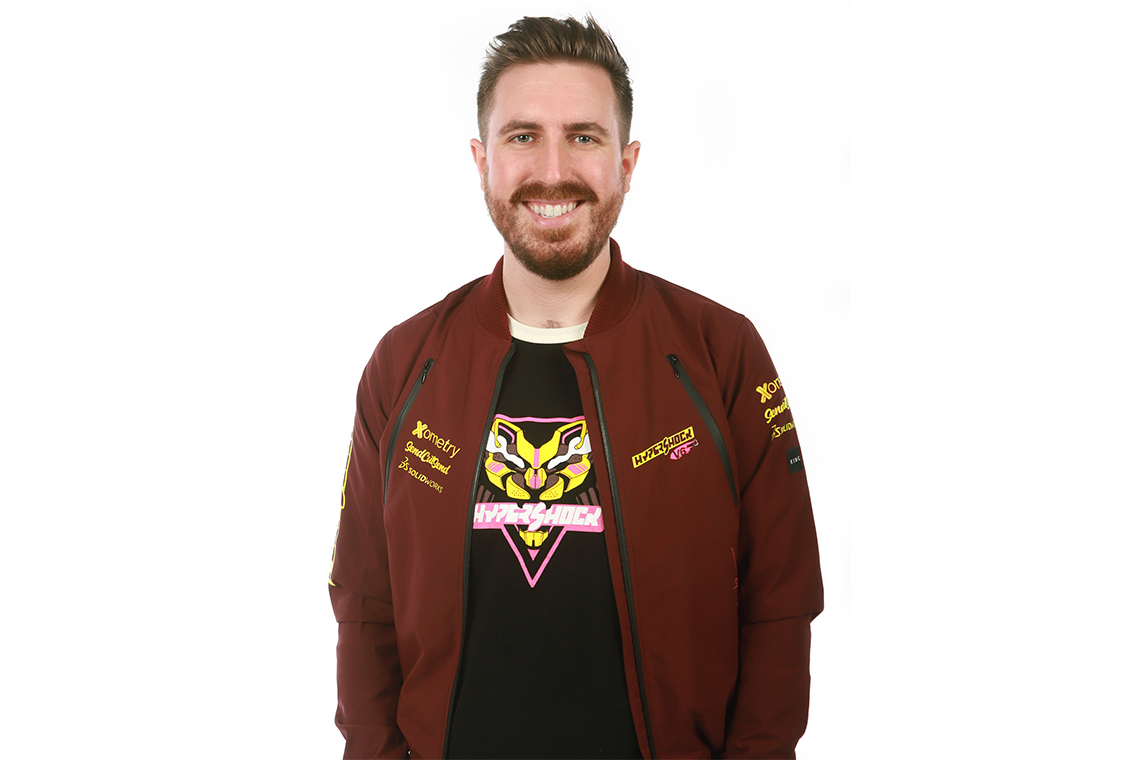 Robot:
HyperShock
Builder:
Will Bales
Type:
Disc spinner (vertical)
Job:
Medical Device R&D Engineer
Team:
Team HyperShock
Kyle Awner, Greg Bales, Will Bales, Kat Cochran, Derek Deville, Alexandra Kasper, Isaac Lubarsky, Gary Nguyen, Collin Royster, Natalie Royster, Connie Ryan
Years competing:
17 years
Hometown:
Miami, FL
Favorite tool:
Milwaukee M18 FUEL 2 Gallon Compact Quiet Compressor
Favorite robot:
Bender Rodriguez
Interesting fact:
HyperShock has a perfect track record… of building the robot for the very first time every year on-site at filming. Will it work out this year? Find out this season on Discovery!
| Stats | Career | WCVII | 2021 | 2020 | 2019 | 2018 | 2016 | 2015 |
| --- | --- | --- | --- | --- | --- | --- | --- | --- |
| Total matches | 33 | 3 | 9 | 7 | 5 | 4 | 3 | 2 |
| Win percentage | 55% | 33% | 78% | 43% | 60% | 25% | 67% | 50% |
| Total wins | 18 | 1 | 7 | 3 | 3 | 1 | 2 | 1 |
| Losses | 15 | 2 | 2 | 4 | 2 | 3 | 1 | 1 |
| Knockouts | 16 | 1 | 6 | 2 | 3 | 1 | 2 | 1 |
| KO percentage | 48% | 33% | 67% | 29% | 60% | 25% | 67% | 50% |
| Average knockout time | 85 s | 108 s | 85 s | 91 s | 118 s | 50 s | 111 s | 35 s |
| Knockouts against | 10 | 1 | 1 | 3 | 1 | 2 | 1 | 1 |
| KO against percentage | 30% | 33% | 11% | 43% | 20% | 50% | 33% | 50% |
| Judges decision wins | 2 | 0 | 1 | 1 | 0 | 0 | 0 | 0 |
| Season | Round | Matchup | Results |
| --- | --- | --- | --- |
| WCVII | Episode 702 | SawBlaze vs HyperShock | SawBlaze by JD |
| WCVII | Episode 704 | Whiplash vs HyperShock | HyperShock by KO 1m48s |
| WCVII | Episode 709 | End Game vs HyperShock | End Game by KO 2m37s |
| WCVII | Episode 712 | HyperShock vs Claw Viper | |
| 2021 | Episode 603 | HyperShock vs SlamMow | HyperShock by KO 1m11s |
| 2021 | Episode 606 | HyperShock vs Lock-Jaw | HyperShock by KO 1m32s |
| 2021 | Episode 611 | P1 vs HyperShock | P1 by JD |
| 2021 | SCSF 1 | DUCK! vs HyperShock | HyperShock by JD |
| 2021 | SCSF 1 | HyperShock vs Gigabyte | HyperShock by KO 1m41s |
| 2021 | SCSF 1 | HyperShock vs MaDCaTter | HyperShock by KO 2m34s |
| 2021 | SCSF 1 | HyperShock vs Valkyrie | HyperShock by KO 1m6s |
| 2021 | SCSF 6 | Skorpios vs HyperShock | HyperShock by KO 24s |
| 2021 | SCSF 6 | Witch Doctor vs HyperShock | Witch Doctor by KO 2m49s |
| 2020 | Bounty Icewave | Ghost Raptor vs HyperShock | HyperShock by KO 1m25s |
| 2020 | Bounty Icewave | HyperShock vs Sporkinok | HyperShock by JD |
| 2020 | Bounty Icewave | Skorpios vs HyperShock | Skorpios by JD |
| 2020 | Episode 503 | HyperShock vs Gruff | Gruff by KO 1m41s |
| 2020 | Episode 507 | HyperShock vs Mammoth | HyperShock by KO 1m36s |
| 2020 | Episode 510 | HyperShock vs End Game | End Game by KO 53s |
| 2020 | Episode 511 | Hydra vs HyperShock | Hydra by KO 2m58s |
| 2019 | Episode 1 | HyperShock vs Valkyrie | HyperShock by KO 2m14s |
| 2019 | Episode 10 | Bite Force vs HyperShock | Bite Force by JD |
| 2019 | Episode 13 | Breaker Box vs HyperShock | HyperShock by KO 2m59s |
| 2019 | Episode 14 | HyperShock vs HUGE | HUGE by KO 2m57s |
| 2019 | Episode 6 | HyperShock vs Monsoon | HyperShock by KO 41s |
| 2019 | Not Aired | HyperShock vs Hydra | Hydra by KO 45s |
| 2018 | Day 10 Session 1 | HyperShock vs Reality | Reality by KO 2m5s |
| 2018 | Day 2 Session 1 | HyperShock vs Bite Force | Bite Force by KO 36s |
| 2018 | Day 4 Session 1 | HyperShock vs Battle Royal with Cheese | HyperShock by KO 50s |
| 2018 | Day 6 Session 1 | HyperShock vs Free Shipping | Free Shipping by KO 2m26s |
| 2018 | Day 8 Session 1 | Skorpios vs HyperShock | Skorpios by JD |
| 2016 | Qualifiers Session 2 | HyperShock vs UltraViolent | HyperShock by KO 1m30s |
| 2016 | Round of 32 | HyperShock vs Warrior Dragon | HyperShock by KO 2m12s |
| 2016 | Sweet 16 | Poison Arrow vs HyperShock | Poison Arrow by KO 2m32s |