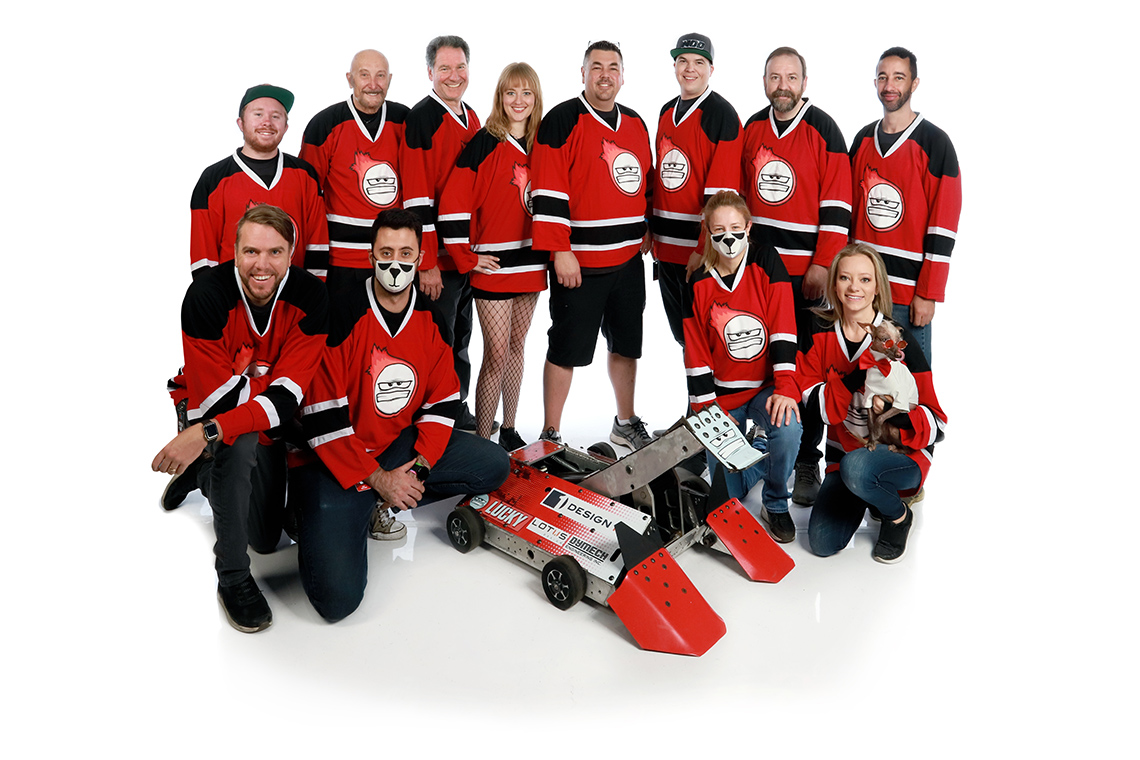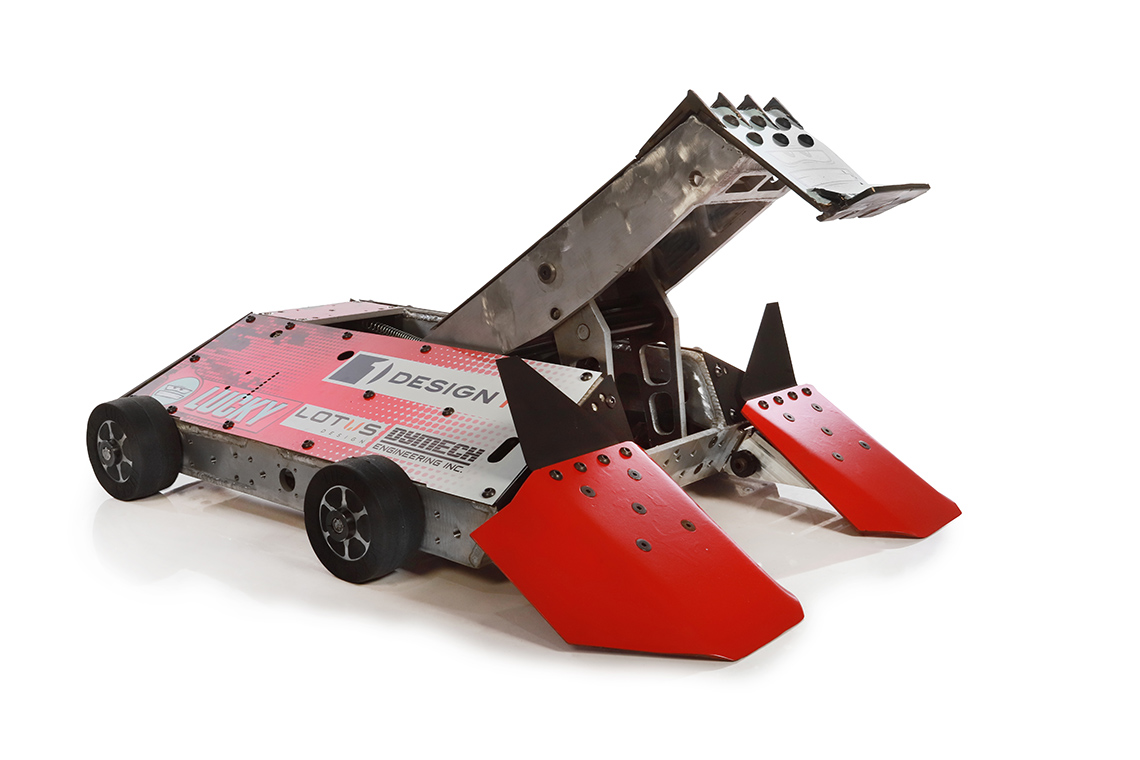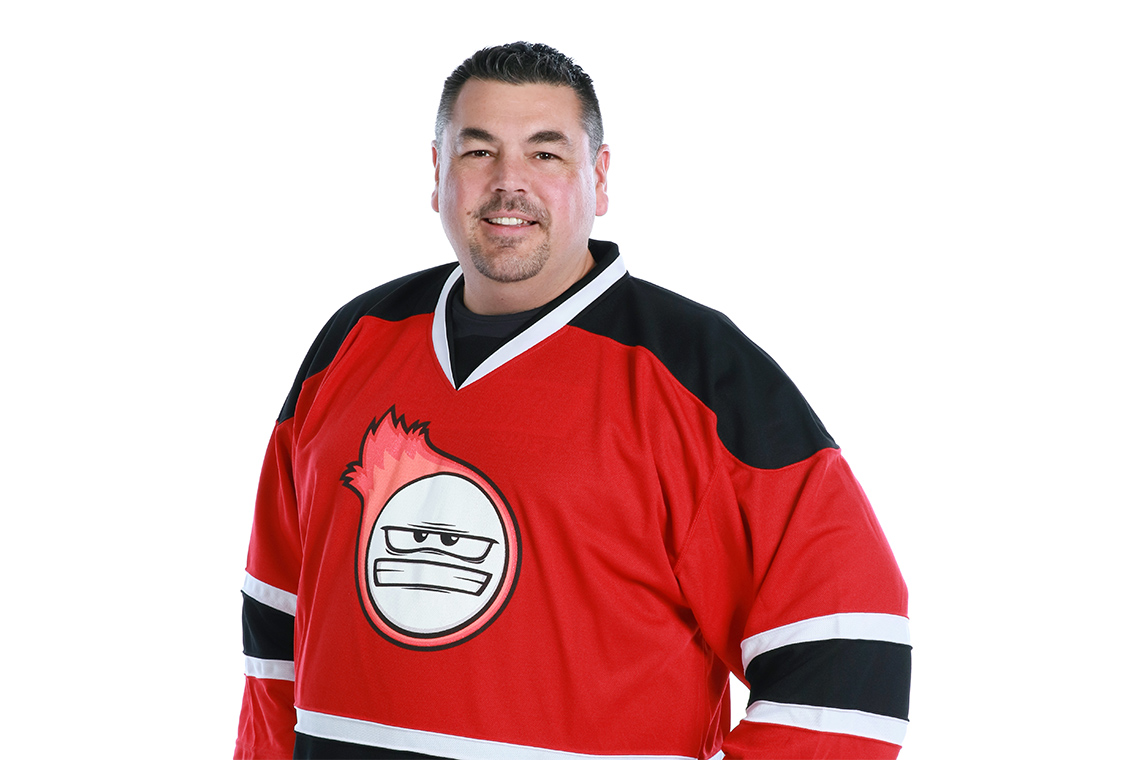 Robot:
LUCKY!
Builder:
Mark Demers
Type:
Flipper
Job:
Technical Sales, Marketing (Sales Engineer)
Team:
TKO ROBOTICS
Mark Demers, David Kennedy, Matt Bailey, Tim Bayne, Jeff Hayashida, Mohan Gurunathan, Matthew Olson, Megan Melton, Thacia Frank, Marcelo Borges, Igor Duran, Todd Cope, Robert Frankovich, Karolina Ash, Bennet Heidenreich, Luc Goldstein, Landon Spaw, Jennifer Lynn, Rodney Hansen, Tom Burn, Martin Coursol, Cassandra Coursol
Years competing:
20+ years
Hometown:
Ottawa, Ontario, Canada
Favorite tool:
CNC Laser T-800
Favorite robot:
Terminator
Interesting fact:
NOBODY on the team has met EVERYBODY on the team. An international collaboration.
| Stats | Career | WCVII | 2021 | 2019 | 2018 | 2016 |
| --- | --- | --- | --- | --- | --- | --- |
| Total matches | 24 | 5 | 6 | 5 | 6 | 2 |
| Win percentage | 42% | 60% | 50% | 40% | 33% | 0% |
| Total wins | 10 | 3 | 3 | 2 | 2 | 0 |
| Losses | 14 | 2 | 3 | 3 | 4 | 2 |
| Knockouts | 6 | 2 | 3 | 0 | 1 | 0 |
| KO percentage | 25% | 40% | 50% | 0% | 17% | 0% |
| Average knockout time | 87 s | 74 s | 121 s | | 67 s | |
| Knockouts against | 8 | 1 | 2 | 1 | 3 | 1 |
| KO against percentage | 33% | 20% | 33% | 20% | 50% | 50% |
| Judges decision wins | 4 | 1 | 0 | 2 | 1 | 0 |
| Season | Round | Matchup | Results |
| --- | --- | --- | --- |
| WCVII | Episode 703 | Triton vs Lucky | Lucky by KO 1m12s |
| WCVII | Episode 707 | Lucky vs Kraken | Lucky by JD |
| WCVII | Episode 712 | Lucky vs Shreddit Bro | Lucky by KO 1m15s |
| WCVII | Episode 715 | Lucky vs Cobalt | Cobalt by KO 39s |
| WCVII | Episode 716 | Lucky vs HyperShock | HyperShock by JD |
| WCVII | Episode 723 | Lucky vs Jackpot | Jackpot by JD |
| WCVII | Episode 723 | Lucky vs Overhaul | Lucky by JD |
| 2021 | Episode 604 | Lucky vs Tantrum | Tantrum by KO 1m44s |
| 2021 | Episode 606 | Lucky vs Blade V3 | Lucky by KO 46s |
| 2021 | Episode 610 | Mammoth vs Lucky | Lucky by KO 2m29s |
| 2021 | Episode 611 | Copperhead vs Lucky | Copperhead by JD |
| 2021 | Not Aired | Lucky vs P1 | Lucky by KO 2m48s |
| 2021 | SCSF 4 | Switchback vs Lucky | Switchback by KO 55s |
| 2019 | Episode 12 | The Four Horseman vs Double Jeopardy vs Lucky | Lucky by JD 3m |
| 2019 | Episode 3 | Bloodsport vs Lucky | Bloodsport by JD |
| 2019 | Episode 8 | Minotaur vs Lucky | Minotaur by KO 1m59s |
| 2019 | Not Aired | Lucky vs Kraken | Lucky by JD |
| 2019 | Not Aired | Lucky vs Tantrum | Tantrum by JD |
| 2018 | Day 2 Session 2 | Lucky vs Skorpios | Skorpios by JD |
| 2018 | Day 4 Session 1 | SOW vs Lucky | SOW by KO 1m34s |
| 2018 | Day 5 Desparado Tournament | Lock-Jaw vs Lucky | Lock-Jaw by KO 2m42s |
| 2018 | Day 5 Desparado Tournament | Lucky vs Gemini | Lucky by JD |
| 2018 | Day 5 Desparado Tournament | Lucky vs Gigabyte | Lucky by KO 1m7s |
| 2018 | Day 7 Session 1 | Lucky vs Reality | Reality by KO 1m56s |
| 2016 | Qualifiers Session 2 | Lucky vs Beta | Beta by JD |
| 2016 | Round of 32 | Yeti vs Lucky | Yeti by KO 2m44s |