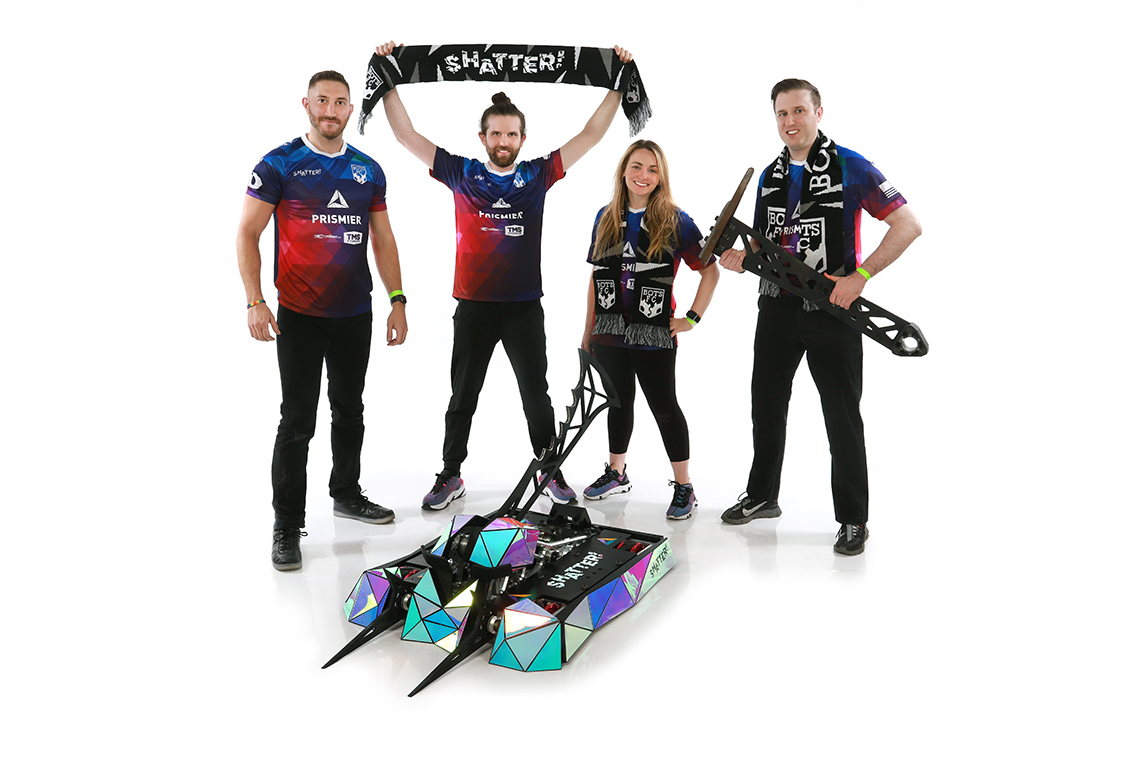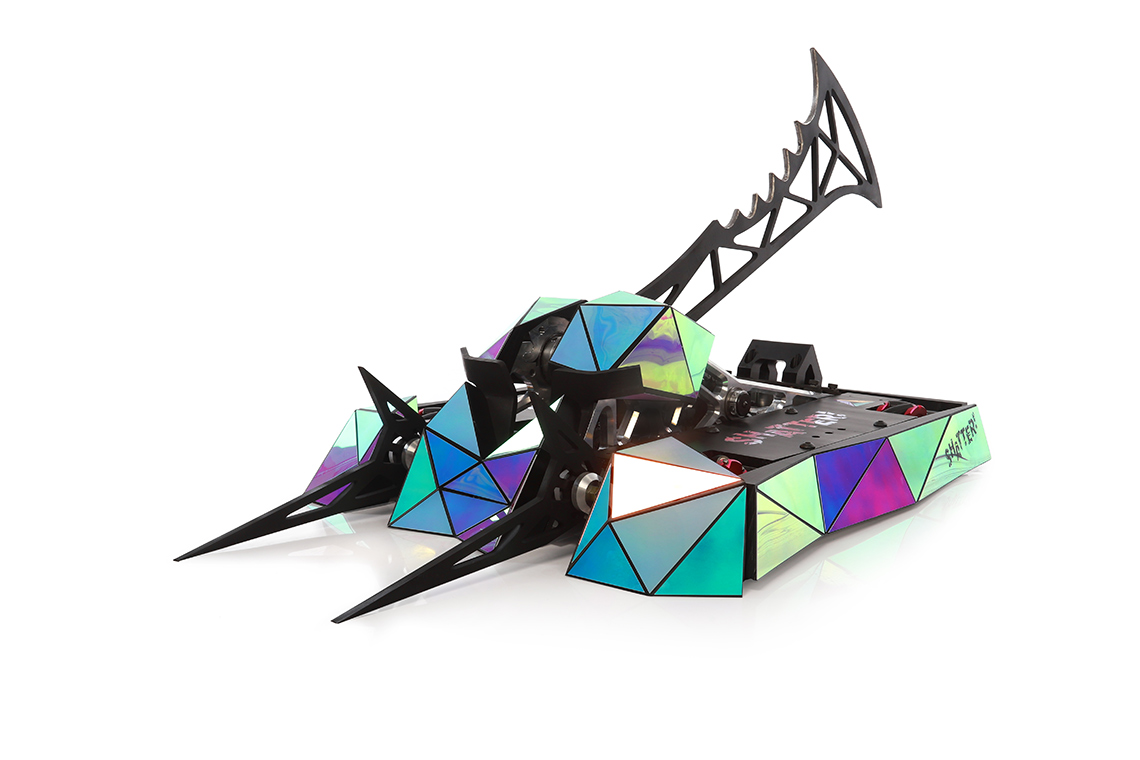 Robot:
Shatter!
Builder:
Adam Wrigley
Type:
Hammer / Sword
Job:
Principal Mechanical Engineer at frog
Team:
BotsFC
Adam Wrigley, Eric Wrigley, Paul Gancitano, Mary Chimenti
Years competing:
3rd Season at Battlebots, 6th Year Fighting Heavyweights, 14th Year Building Combat Robots
Hometown:
Brooklyn, NY
Favorite tool:
Anti-Static Floor Mats
Favorite robot:
hitchBOT
Interesting fact:
Shatter! is the only robot with a sword at Battlebots 2021.
| Stats | Career | WCVII | 2021 | 2020 | 2019 |
| --- | --- | --- | --- | --- | --- |
| Total matches | 21 | 5 | 5 | 6 | 5 |
| Win percentage | 48% | 20% | 60% | 67% | 40% |
| Total wins | 10 | 1 | 3 | 4 | 2 |
| Losses | 11 | 4 | 2 | 2 | 3 |
| Knockouts | 3 | 0 | 0 | 2 | 1 |
| KO percentage | 14% | 0% | 0% | 33% | 20% |
| Average knockout time | 91 s | | | 126 s | 56 s |
| Knockouts against | 6 | 2 | 2 | 1 | 1 |
| KO against percentage | 29% | 40% | 40% | 17% | 20% |
| Judges decision wins | 7 | 1 | 3 | 2 | 1 |
| Season | Round | Matchup | Results |
| --- | --- | --- | --- |
| WCVII | Episode 701 | HUGE vs Shatter | HUGE by KO 2m |
| WCVII | Episode 708 | Beta vs Shatter | Beta by JD |
| WCVII | Episode 710 | Shatter vs Horizon | Horizon by JD |
| WCVII | Episode 714 | Ominous vs Shatter | Shatter by JD |
| WCVII | Episode 716 | Riptide vs Shatter | Riptide by KO 1m56s |
| WCVII | Episode 724 | Claw Viper vs Shatter | Claw Viper by JD |
| 2021 | Episode 602 | SubZero vs Shatter | Shatter by JD |
| 2021 | Episode 605 | Blacksmith vs Shatter | Shatter by JD |
| 2021 | Episode 611 | Shatter vs Riptide | Riptide by KO 1m9s |
| 2021 | SCSF 2 | Deep Six vs Shatter | Deep Six by KO 2m29s |
| 2021 | SCSF 2 | Pain Train vs Shatter | Shatter by JD |
| 2020 | Episode 502 | Shatter vs Ghost Raptor | Shatter by KO 2m12s |
| 2020 | Episode 504 | Shatter vs Malice | Malice by JD |
| 2020 | Episode 509 | Shatter vs Captain Shrederator | Shatter by JD |
| 2020 | Episode 512 | Lock-Jaw vs Shatter | Shatter by KO 1m59s |
| 2020 | Episode 513 | Mammoth vs Shatter | Shatter by JD |
| 2020 | Episode 514 | Shatter vs End Game | End Game by KO 1m57s |
| 2019 | Episode 11 | Shatter vs Kingpin | Shatter by KO 56s |
| 2019 | Episode 12 | Minotaur vs Shatter | Minotaur by KO 2m34s |
| 2019 | Episode 2 | Shatter vs Witch Doctor | Witch Doctor by JD |
| 2019 | Episode 5 | Wan Hoo vs Shatter | Shatter by JD |
| 2019 | Not Aired | Shatter vs Kraken | Kraken by JD |