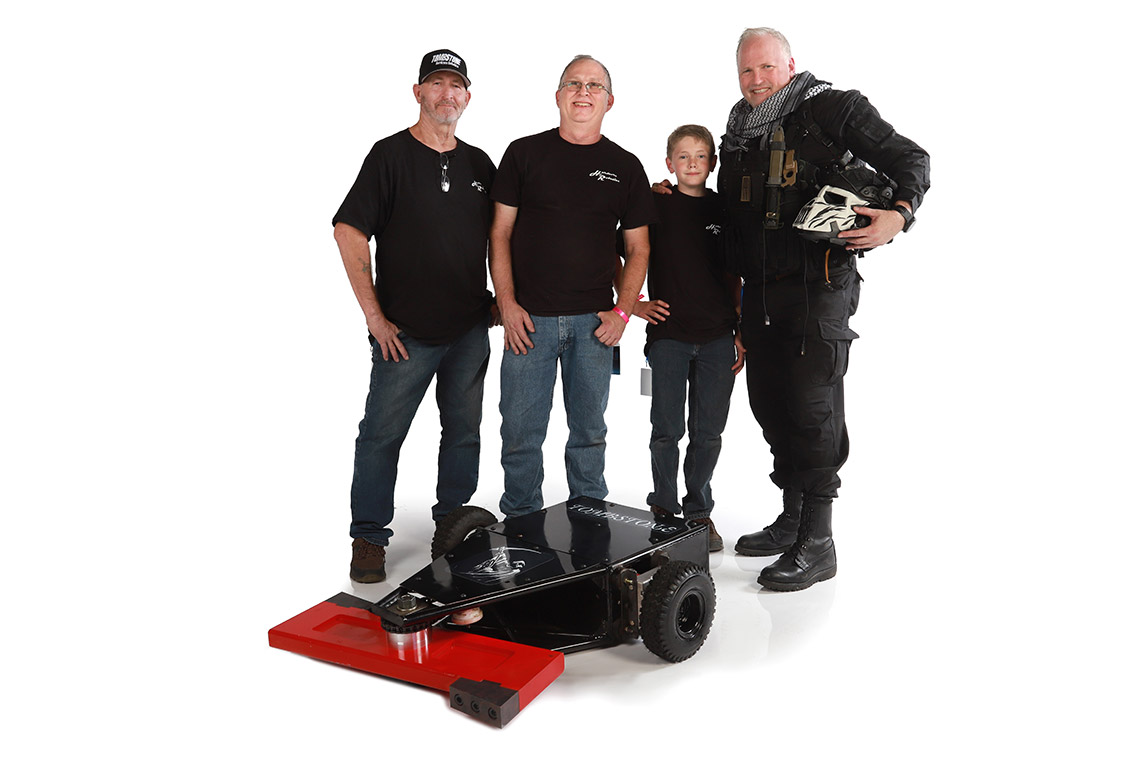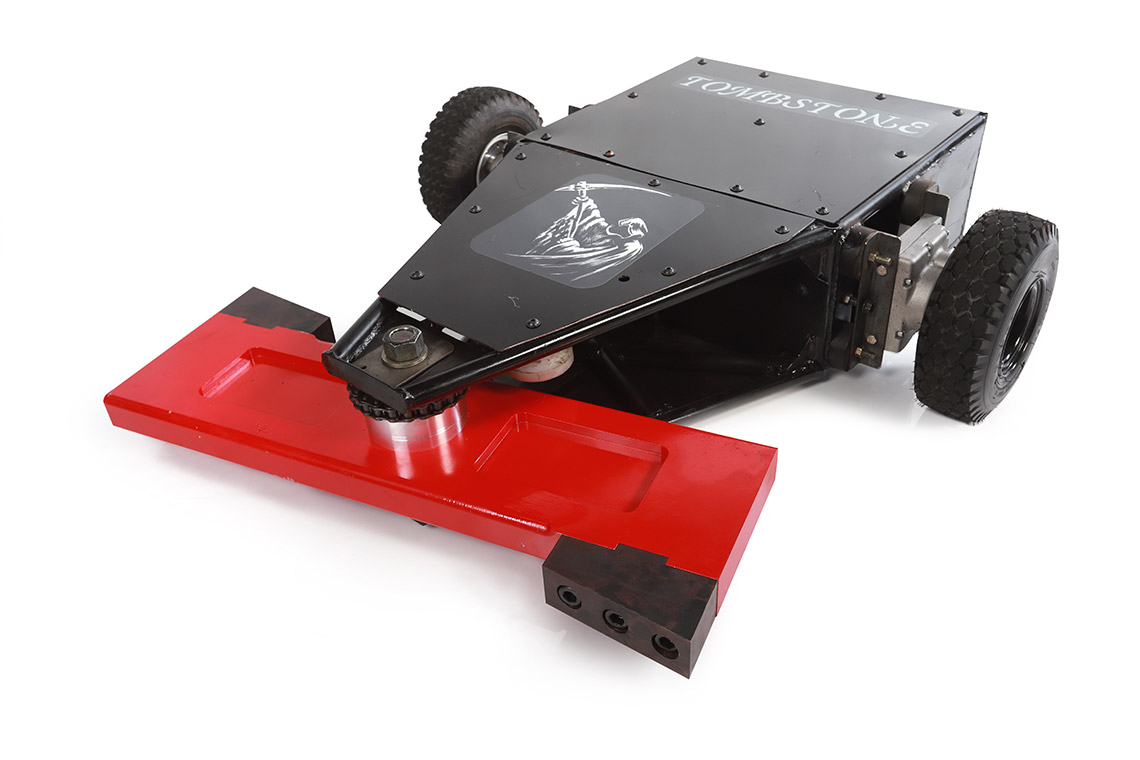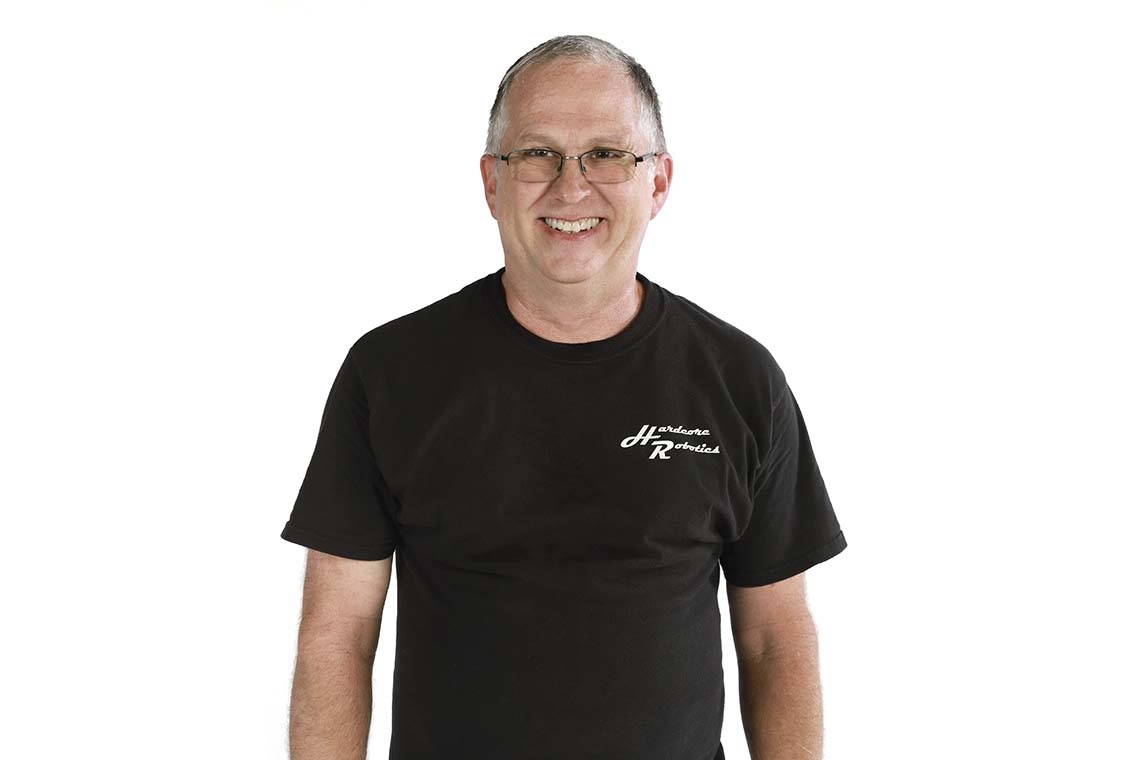 Team Captain:
Ray Billings
Type:
Bar Spinner (horizontal)
Team:
Hardcore Robotics
Ray Billings, Rick Russ, Roy Hellen, Justin Billings, Lorna West
Years competing:
20+ years
Hometown:
Placerville, CA
Favorite tool:
Tormach PCNC 1100
Favorite robot:
Bishop — Aliens movie (the knife trick is awesome!)
Interesting fact:
Tombstone is the only BattleBot ever to win a championship in two separate weight categories! Once as a heavyweight, and once as a super heavyweight.
| Stats | Career | 2021 | 2020 | 2019 | 2018 | 2016 | 2015 |
| --- | --- | --- | --- | --- | --- | --- | --- |
| Total matches | 35 | 5 | 6 | 7 | 6 | 6 | 5 |
| Win percentage | 71% | 40% | 50% | 71% | 83% | 100% | 80% |
| Total wins | 25 | 2 | 3 | 5 | 5 | 6 | 4 |
| Losses | 10 | 3 | 3 | 2 | 1 | 0 | 1 |
| Knockouts | 20 | 0 | 3 | 4 | 5 | 4 | 4 |
| KO percentage | 57% | 0% | 50% | 57% | 83% | 67% | 80% |
| Average knockout time | 84 s | | 113 s | 71 s | 104 s | 55 s | 78 s |
| Knockouts against | 8 | 3 | 2 | 2 | 1 | 0 | 0 |
| KO against percentage | 23% | 60% | 33% | 29% | 17% | 0% | 0% |
| Judges decision wins | 5 | 2 | 0 | 1 | 0 | 2 | 0 |
| Season | Round | Matchup | Results |
| --- | --- | --- | --- |
| 2021 | Episode 601 | Captain Shrederator vs Tombstone | Captain Shrederator by KO 2m2s |
| 2021 | Episode 604 | Tombstone vs Mammoth | Tombstone by JD |
| 2021 | Episode 608 | Free Shipping vs Tombstone | Tombstone by JD |
| 2021 | Episode 612 | Jackpot vs Tombstone | Jackpot by KO 40s |
| 2021 | SCSF 6 | Tombstone vs Tantrum | Tantrum by KO 1m25s |
| 2020 | Bounty Tombstone | Tombstone vs Gruff | Tombstone by KO 2m11s |
| 2020 | Episode 501 | Tombstone vs End Game | End Game by KO 39s |
| 2020 | Episode 504 | Slap Box vs Tombstone | Tombstone by KO 1m19s |
| 2020 | Episode 508 | Tombstone vs Skorpios | Skorpios by KO 1m58s |
| 2020 | Episode 511 | MaDCaTter vs Tombstone | Tombstone by KO 2m8s |
| 2020 | Episode 513 | Black Dragon vs Tombstone | Black Dragon by JD |
| 2019 | Episode 1 | Tombstone vs Lock-Jaw | Tombstone by KO 48s |
| 2019 | Episode 11 | Tombstone vs Gruff | Tombstone by JD |
| 2019 | Episode 15 | Tombstone vs Quantum | Tombstone by KO 32s |
| 2019 | Episode 16 | Tombstone vs Bite Force | Bite Force by KO 52s |
| 2019 | Episode 16 | Tombstone vs Whiplash | Tombstone by KO 1m40s |
| 2019 | Episode 4 | Tombstone vs SawBlaze | Tombstone by KO 1m42s |
| 2019 | Episode 7 | Tombstone vs Rotator | Rotator by KO 2m59s |
| 2018 | Day 1 Session 1 | Tombstone vs Minotaur | Tombstone by KO 2m22s |
| 2018 | Day 10 Session 2 | Tombstone vs Tantrum | Tombstone by KO 1m17s |
| 2018 | Day 2 Session 2 | Gigabyte vs Tombstone | Tombstone by KO 1m9s |
| 2018 | Day 6 Session 2 | Tombstone vs Whiplash | Tombstone by KO 1m14s |
| 2018 | Day 7 Session 2 | Tombstone vs DUCK! | Tombstone by KO 2m37s |
| 2018 | Sweet 16 2018 | Tombstone vs Bombshell | Bombshell by KO 1m57s |
| 2016 | Final | Tombstone vs Bombshell | Tombstone by KO 53s |
| 2016 | Qualifiers Session 2 | Tombstone vs Black Ice | Tombstone by KO 1m1s |
| 2016 | Quarter Finals | Tombstone vs Beta | Tombstone by JD |
| 2016 | Round of 32 | Tombstone vs Escape Velocity | Tombstone by KO 45s |
| 2016 | Semi Finals | Tombstone vs Yeti | Tombstone by JD |
| 2016 | Sweet 16 | Tombstone vs Brutus | Tombstone by KO 59s |