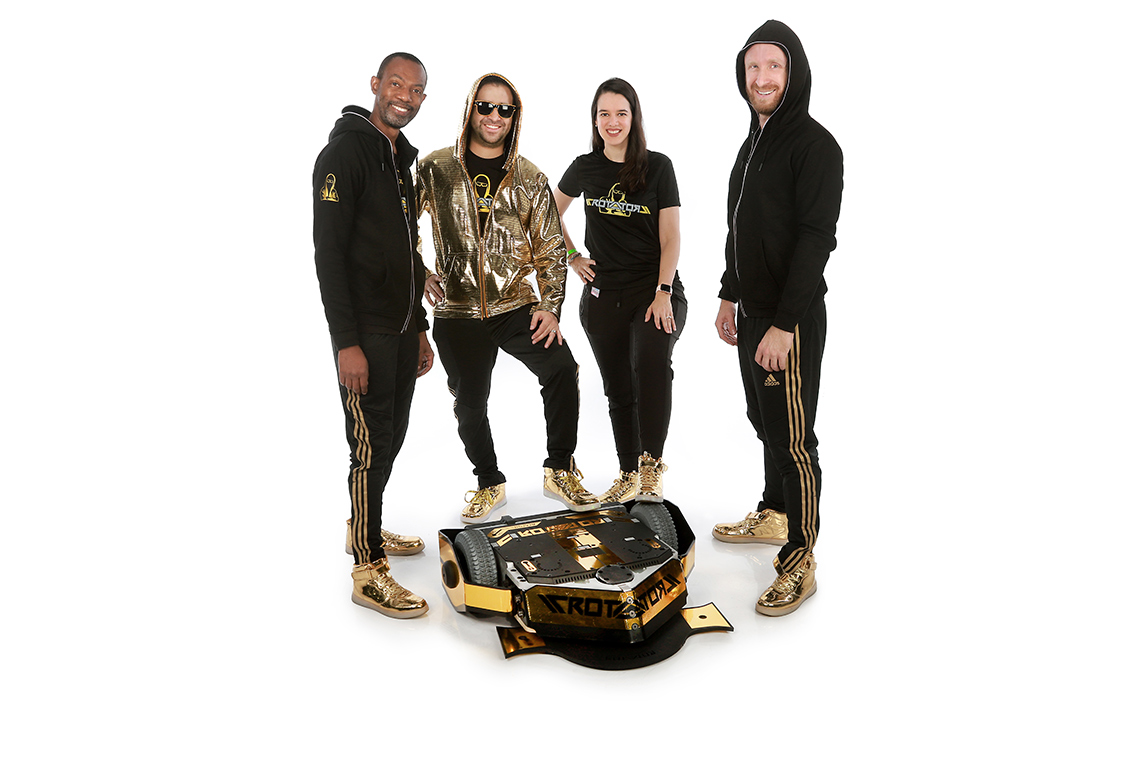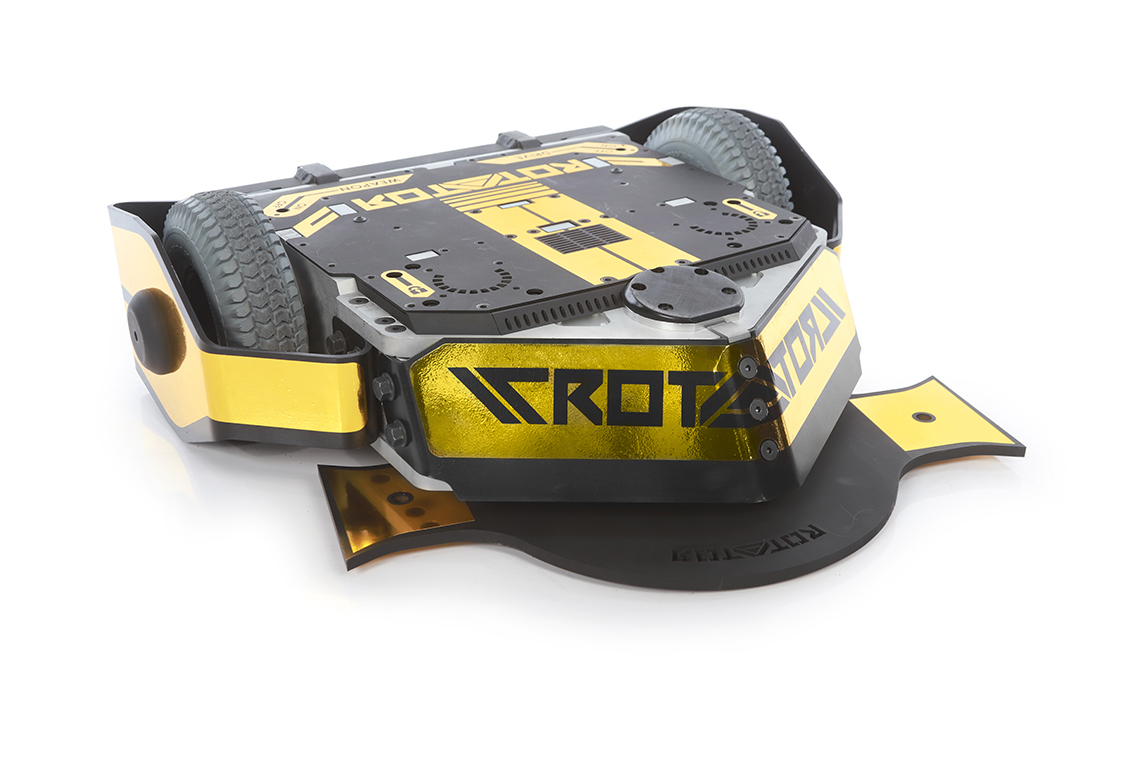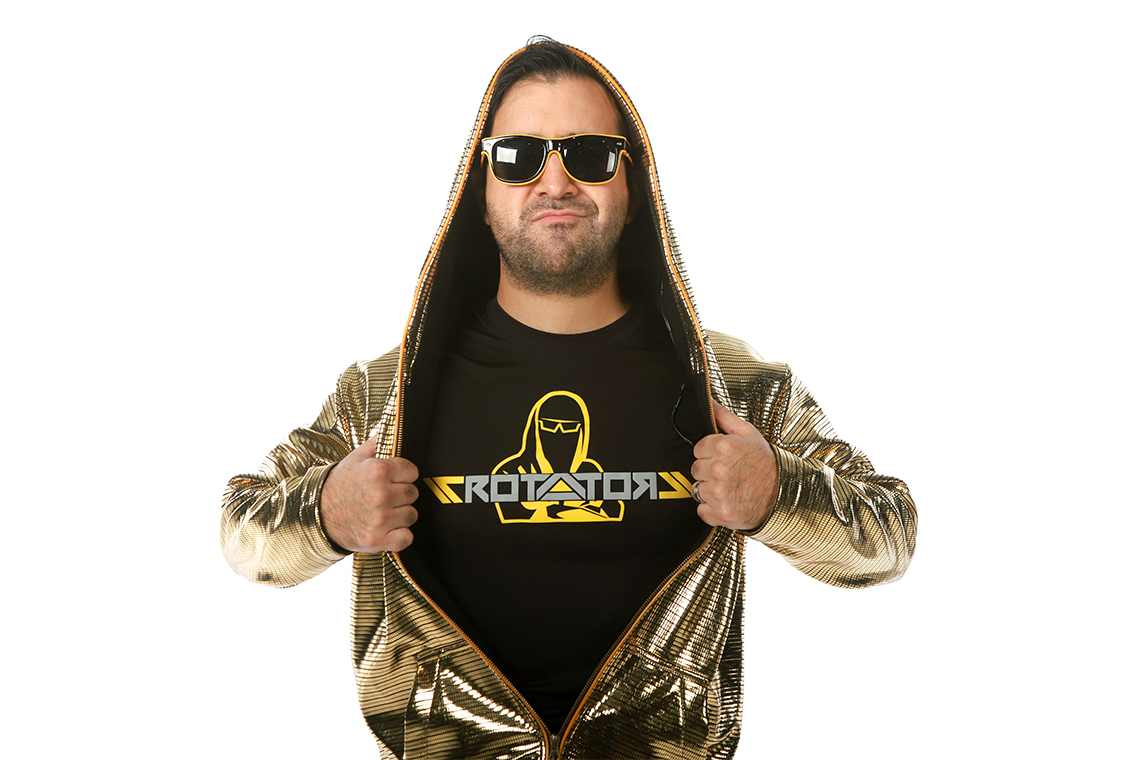 Robot:
ROTATOR
Builder:
Victor Soto
Type:
Bar spinner (horizontal)
Job:
Robotics Systems Engineer
Team:
Team Revolution
Victor Soto, Carl Gayle, Jordan Sangerman, Mark Palm, Ali Tariq
Years competing:
20 years
Hometown:
Miami, FL
Favorite tool:
Solidworks
Favorite robot:
Metal Gear Rex
Interesting fact:
I've done over 500 of these introductions and I just realized something incredible… that Rotator spelled backwards is Rotator. That's a palindrome, and you know what? That's pretty darn cool. Get ready to be spun to your death. It's ROTATOR!
| Stats | Career | WCVII | 2021 | 2020 | 2019 | 2018 | 2016 |
| --- | --- | --- | --- | --- | --- | --- | --- |
| Total matches | 33 | 7 | 5 | 9 | 5 | 6 | 1 |
| Win percentage | 55% | 43% | 60% | 67% | 40% | 67% | 0% |
| Total wins | 18 | 3 | 3 | 6 | 2 | 4 | 0 |
| Losses | 15 | 4 | 2 | 3 | 3 | 2 | 1 |
| Knockouts | 11 | 3 | 1 | 4 | 2 | 1 | 0 |
| KO percentage | 33% | 43% | 20% | 44% | 40% | 17% | 0% |
| Average knockout time | 104 s | 146 s | 76 s | 114 s | 118 s | 67 s | |
| Knockouts against | 5 | 2 | 1 | 0 | 0 | 1 | 1 |
| KO against percentage | 15% | 29% | 20% | 0% | 0% | 17% | 100% |
| Judges decision wins | 11 | 0 | 2 | 6 | 0 | 3 | 0 |
| Season | Round | Matchup | Results |
| --- | --- | --- | --- |
| WCVII | Episode 703 | Rotator vs Hydra | Hydra by KO 1m24s |
| WCVII | Episode 706 | Rotator vs Jackpot | Rotator by KO 2m49s |
| WCVII | Episode 711 | Rotator vs Bloodsport | Bloodsport by KO 1m47s |
| WCVII | Episode 713 | Rotator vs Fusion | Rotator by KO 1m53s |
| WCVII | Episode 716 | Copperhead vs Rotator | Copperhead by JD |
| WCVII | Episode 720 | Rotator vs TerrorTops | Rotator by KO 2m35s |
| WCVII | Episode 720 | Rotator vs Valkyrie | Valkyrie by JD |
| 2021 | Episode 602 | Kraken vs Rotator | Rotator by JD |
| 2021 | Episode 606 | Rotator vs Black Dragon | Rotator by JD |
| 2021 | Episode 612 | Rotator vs Captain Shrederator | Rotator by KO 1m16s |
| 2021 | Episode 613 | Rotator vs Tantrum | Tantrum 2m59s |
| 2021 | SCSF 3 | Glitch vs Rotator | Glitch by KO 52s |
| 2020 | Bounty Bronco | Bronco vs Rotator | Rotator by JD |
| 2020 | Bounty Bronco | Rotator vs Axolotl | Rotator by KO 1m19s |
| 2020 | Bounty Bronco | Rotator vs Captain Shrederator | Rotator by JD |
| 2020 | Bounty Bronco | Rotator vs MaDCaTter | Rotator by KO 2m5s |
| 2020 | Episode 503 | Rotator vs Beta | Beta by JD |
| 2020 | Episode 506 | Rotator vs Valkyrie | Valkyrie by JD |
| 2020 | Episode 508 | Rotator vs Big Dill | Rotator by KO 2m45s |
| 2020 | Episode 512 | Jackpot vs Rotator | Rotator by KO 1m28s |
| 2020 | Episode 513 | End Game vs Rotator | End Game by JD |
| 2019 | Episode 1 | SawBlaze vs Rotator | SawBlaze by JD 3m |
| 2019 | Episode 11 | Rotator vs Death Roll | Death Roll by JD |
| 2019 | Episode 14 | Rotator vs Blacksmith | Blacksmith by JD |
| 2019 | Episode 4 | Rotator vs Bombshell | Rotator by KO 57s |
| 2019 | Episode 7 | Tombstone vs Rotator | Rotator by KO 2m59s |
| 2018 | Day 1 Session 2 | Rotator vs Petunia | Petunia by JD |
| 2018 | Day 2 Session 2 | Predator vs Rotator | Rotator by KO 1m7s |
| 2018 | Day 4 Session 2 | Warrior Dragon vs Rotator | Rotator by JD |
| 2018 | Day 6 Session 2 | Skorpios vs Rotator | Rotator by JD |
| 2018 | Quarter Finals 2018 | Rotator vs Bite Force | Bite Force by KO 1m19s |
| 2018 | Sweet 16 2018 | Icewave vs Rotator | Rotator by JD |
| 2016 | Qualifiers Session 1 | Rotator vs Witch Doctor | Witch Doctor by KO 42s |
| 2016 | Sunday Exhibition | Whiplash vs The Disk o' Inferno vs Rotator | Rotator by JD |